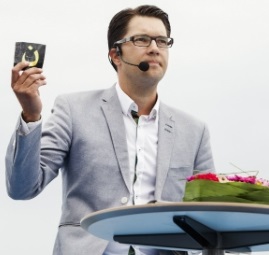 Swedish party leaders traditionally hold summer speeches on their home turf during the holiday season and Saturday was the turn of the Sweden Democrats' Jimmie Åkesson.
A crowd of a few hundred people had gathered in Åkesson's home town of Sölvesborg in Sweden's far south to hear the 35-year-old launch the party's push towards the general election in September.
Following a sweeping review of the current global conflict zones, Åkesson shifted focus to Islam. "Islamism is the Nazism and Communism of our time," he said, prompting the most generous applause of the afternoon.
Furthermore Åkesson said that he demanded that all aid to organizations and associations related to "Islamism" should be stopped, and directed his ire to the handful of Swedish citizens reported to be fighting in Iraq and Syria. "You guys can stay there. Sweden is no longer your home, this country built on Christian principles."