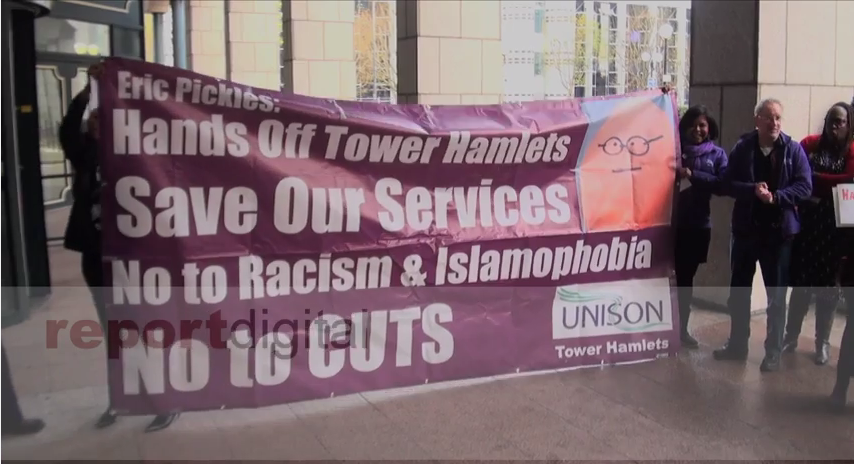 Senior figures have slammed the decision to send commissioners into Tower Hamlets, whilst Communities Secretary Eric Pickles describes spending £1600 a day of local residents' cash on them as 'modest.'
Yet apparently Eric Pickles thinks that £1600 a day (plus generous expenses) of Tower Hamlets residents' money on the Commissioners is a 'modest sum.' It might be very modest for Pickles who spends £500,000 of our money on limos, or for PwC who run multi-billion tax avoidance schemes while being slammed by Transparency International for 'undue influence' on Whitehall. But in Tower Hamlets where half of our children live below the poverty line,£1600 a day plus the £1million cost of the PwC report is anything but modest.
As Pickles' hit squad arrived today, they were greeted with local trade unionists gathering at the Town Hall to oppose their appointment (video here). It is a sinister development and seems no coincidence that Tower Hamlets as the council which has most successfully resisted austerity is being singled out by the Tories. In spite of serious concerns with multiple local authorities, Pickles has gone for the one that blocked the hated bedroom tax, reinstated EMA and stood up to him over cuts.
In a disproportionate measure, twenty-six inspectors were deployed for seven months with few checks and balances following a questionable recruitment process, and the £1million cost to Tower Hamlets residents has been described as 'punitive.' And now they're sending in commissioners.
But no failings have been found in Tower Hamlets' high performing, multi award winning frontline services.
Tower Hamlets welcomed the PwC report's clarification that they have not found evidence of undue publicity spending, of inappropriate property sales, bias in grant funding or of corruption. A good rebuttal from one of our councillors can be found here. But Pickles appointed commissioners to watch these functions anyway, and we're paying for it.
Pickles' latest letter doesn't hold much water. He's trying to take control of the appointment of election officers- which with an ongoing election trial in the borough, is viewed by some as risking contempt of court. He seems obsessed with May's local election 'taking six days to count.' Of course it did- with a tough protocol in place and a multiparty democracy with close elections, things take longer. It might have gone more quickly in next door Newham, where all 61 councillors belong to the same party. The Electoral Commission is 'concerned with the impact' of Pickles' proposals on the May 2015 election, supporting claims of political intervention.
A Tower Hamlets First spokesperson said that 'this is Pickles versus the people. It is a political attack on an independent council that stands up to the cuts, and this was recognised when community leaders and trade unionists addressed a 1200-strong rally in support of the Mayor. With or without commissioners we will continue to fight for our residents against the main parties and their out-of-touch austerity budgets.'
Mayor Lutfur Rahman news report, 17 December 2014
See also "Best Value Inspection – appointment of commissioners", Statement from Mayor Lutfur Rahman, 17 December 2014