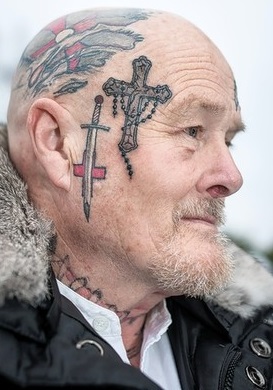 A man branded a "vile, reprehensible bigot" by police after he sent offensive photographs and social media posts to an Islamic community centre near Truro has been spared jail despite saying he will continue to share his views on Facebook.
Eric King, aged 60, was handed a four-day-a-week curfew and a suspended sentence when he appeared before Truro magistrates on Tuesday.
King, of Wheal Eliza Close, St Austell, smeared dog excrement on images depicting the prophet Mohammed having intercourse with a pig and of a naked woman squatting on an Islamic State flag with the letters "IS" scrawled across her buttocks and posted them to Tipu Choudhury, general secretary of the Cornwall Islamic Community Centre at Carnon Downs.
At an earlier hearing, King admitted sending two indecent or grossly offensive messages to the centre via its Facebook page and sending an indecent or grossly offensive letter to Mr Choudhury.
Gail Hawkley, for the prosecution, said when King was arrested he told officers he was a member of the English Defence League and the British National Party. When asked if he would stop after he had been to court he said: "I shouldn't think so," said Ms Hawkley, who added: "[He said] 'I was hoping that whoever saw the letter would kill themselves'."
In a victim impact statement read out to the court, Mr Choudhury said he was a businessman who had lived in Cornwall for 28 years and that the community centre welcomed people of all faiths.
He said: "I was hoping Mr King would express regret and remorse for his actions. I have been told this is not the case." Mr Choudhury added that he felt "deeply saddened and threatened that someone within Cornwall has such hatred" towards his faith.
Mr King's solicitor, Paul Gallagher, said his client believed Allah was a false god and worshipping him was contrary to the Ten Commandments. Mr Gallagher said King, who lived with his daughter, suffered from anger issues and watching events in Syria with IS, such as the beheadings, had "wound him up".
"He did not feel like he had a voice," said Mr Gallagher. "Facebook gave him a voice. He wanted to show the Islamic community his anger."
The court heard King suffered from heart disease and chronic problems with his joints.
Mr Gallagher added: "With regard to any future repetition of this, he tells me that he will not be posting comments on other people's Facebook pages. He does say he will continue to post on his own Facebook. He is entitled to do so; the wrong thing is posting on other people's Facebook."
King was sentenced to eight weeks in prison suspended for one year, ordered to comply with a curfew between 10am to 10pm on Fridays, Saturdays, Mondays and Tuesdays for the next 20 weeks and pay £200 in compensation to Mr Choudhury. Magistrate Marc Pilgrim said: "To observe religious beliefs, Sundays are free of the curfew."
King was made subject to a restraining order not to contact the Islamic Centre by any means nor to enter Quenchwell Road, ordered to pay £80 towards prosecution costs and an £80 victim surcharge.
After hearing the sentence, King commented that he did not understand why he should pay compensation to Mr Choudhury as the letter was not addressed to him.
King does, however, have a ready explanation for why "patriots" like himself are occasionally prosecuted for online hate speech against the Muslim community: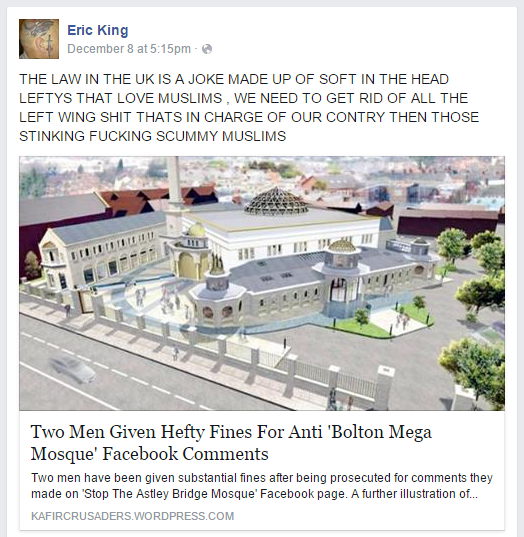 King also has a proposal for dealing with the "stinking fucking scummy Muslims":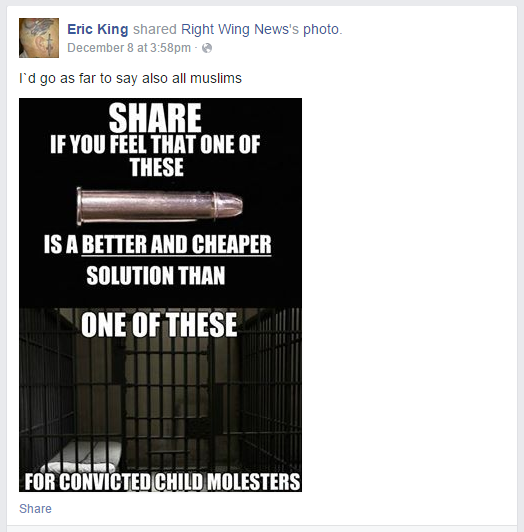 Nor are King's death threats restricted to Muslims. Echoing the arguments of Norwegian mass murderer Anders Breivik, he denounces "FUCKING governments giving our country to FUCKING IMMIGRANTS SCUM" and calls on his supporters to "kill the fucking leftys that have done this to us":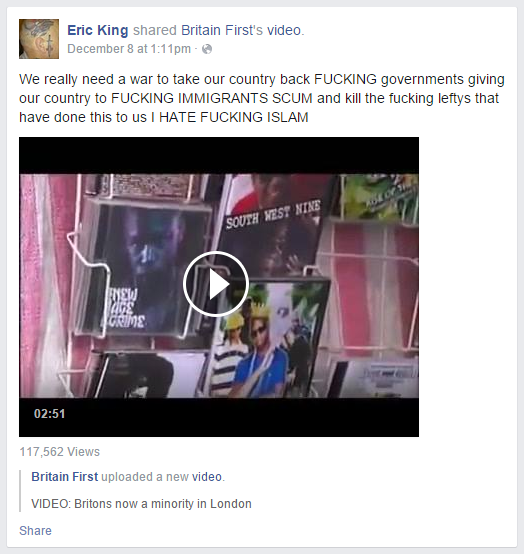 Update:  See Steve Rose, "Eric King: How seriously is offline and online anti-Muslim hate taken?", Religious Reader, 22 December 2014