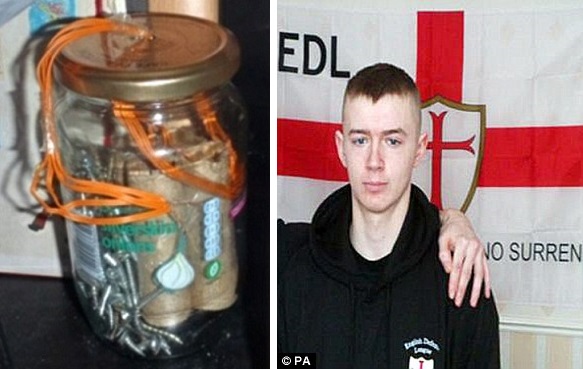 A soldier said to be obsessed with far-right politics has been jailed for two years for making a nail bomb at his family's home in Greater Manchester.
Ryan McGee, 20, was serving with 5th Battalion The Rifles when held in December 2013 at a UK base in Germany. Police found the bomb after raiding the Eccles property on another matter.
McGee had admitted making the device and having information – a book with bomb-making tips – likely to be useful to a terrorist, at the Old Bailey.
The bomb contained 181 metal screws and shards of glass. The book he pleaded guilty to possessing called the Anarchist Cookbook was published in the 1970s and also had instructions for the home-manufacturing of drugs.
The court heard when an officer found the device in a bedroom of the family's three-bedroom house, bomb disposal experts were called in and Greater Manchester Police's counter-terrorism unit launched an investigation.
Prosecutor Roger Smart said imitation firearms and ammunition were found along with components for similar devices, suggesting a "preoccupation that goes far beyond any amateur enthusiast's collection".
"He surfed the internet, he bought supplies, and he watched videos and read books about how to make explosive devices," Mr Smart had earlier told the court.
But Mr Smart also said it was accepted that rifleman McGee was not a terrorist or intended to help a terrorist group.
He told the court McGee had links to far right groups in Europe on his computer and watched a video of two men being executed under a swastika flag. McGee also had a "keen interest in the English Defence League" and had attended one of their marches but was not a member of the group, said the lawyer.
When he was interviewed by police, McGee said he was interested in right wing politics because he did not like mass immigration. He said he made the bomb while on leave "out of boredom".
He documented his thoughts in a journal entitled Ryan's Story Book. It featured drawings of guns and knives, images of paramilitary soldiers and references to groups including the National Front, Klu Klux Klan and British National Party.
Antony Chinn QC, defending, said the fact McGee's journal had stickers of cartoon character Scooby Doo and birds on its cover was an indication of his immaturity. "Although he accepts he made the device he never intended to put it to any violent purpose," he added.
The judge, the Recorder of London Brian Barker, said: "The fact of the matter is any explosive device in the wrong hands could cause untold misery to anyone on the receiving end. Sadly, we live in a violent age. Let's be quite clear that any experimentation by anybody with these kinds of weapons must lead to severe sentences."
After the case, Mari Reid, of the Crown Prosecution Service Counter Terrorism Division, said McGee's "crude but viable device" had the potential to kill or seriously maim.
The Ministry of Defence said an application will be made to discharge McGee from the Army, in line with normal procedure.
See also "Soldier who became EDL fanatic jailed for two years for making potentially-lethal nail bomb", Manchester Evening News, 28 November 2014
And "Serving soldier obsessed with far right English Defence League made deadly nail bomb in his bedroom and vowed 'to drag every last immigrant into the fires of hell with me'", Daily Mail, 28 November 2014