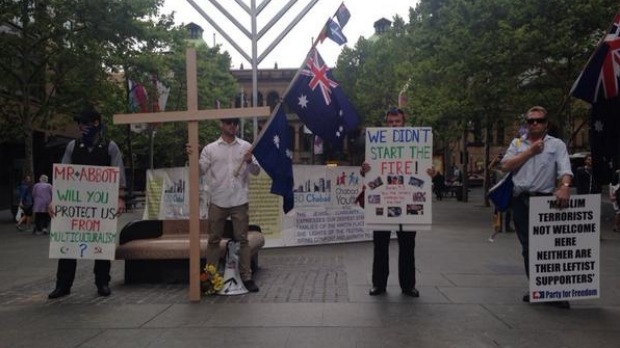 Sydneysiders paying their respects to siege victims at Martin Place have shouted down a group of anti-Islamic protesters who appeared at the memorial on Friday afternoon.
Four men waving Australian and Southern Cross flags shouted slogans including "Islam is evil" and "not all cultures are evil – Islam is inferior". The men also accused Muslims of being "murderers" and supporting female genital mutilation, according to a witness.
The group bore signs proclaiming: "Muslim terrorists not wanted here – neither are their leftist supporters", "Tony Abbott – Will you protect us from multiculturalism?" and "We didn't start the fire!"
One of the men was Nick Folkes, who has previously been associated with the fringe Australian Protectionist Party and is now the chairman of the "Party for Freedom", which calls for an end to Muslim immigration and "state-sanctioned multiculturalism".