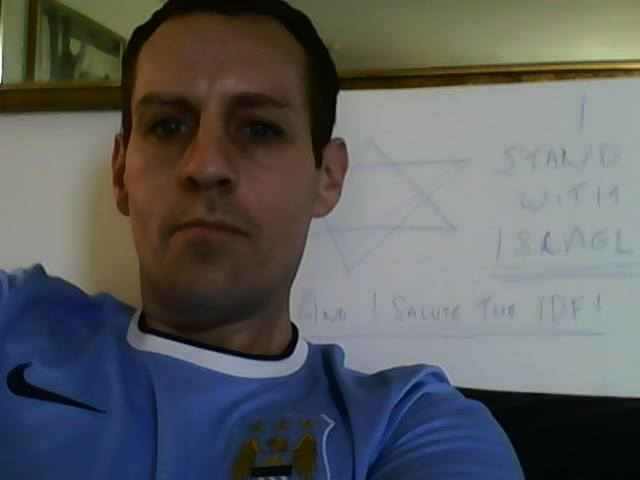 A man who attacked the Respect MP George Galloway in a London street has been jailed for 16 months.
Drug addict Neil Masterson, 39, left the pro-Palestine MP for Bradford West with cuts and bruises to his head and ribs and requiring hospital treatment after the frenzied assault in Notting Hill in August.
Masterson, who was wearing a pink t-shirt with an Israeli Defence Force logo when he was arrested nearby, told police he felt "morally justified" in attacking the MP because he was a "Nazi" with a "shameful" attitude towards Jews, Isleworth Crown Court heard.
Galloway, the court heard, believes he would have been killed if Masterson, who had "recently undergone a conversion towards Judaism", had been armed with a knife during their chance meeting.
Masterson, of Kensington, who used to work for the Department of Work and Pensions and as a manager at the BBC, had previously admitted assaulting Mr Galloway and a second charge of common assault against a man who had been posing for a picture with the MP as the attack happened.
Judge Aidan Marron QC told the clean-shaven and smartly suited Masterson: "While you are no longer facing a charge of religiously aggravated assault, it would be unreal to ignore that the motivation for this … was your profound hostility to Mr Galloway's views."
He added that Masterson's "loathing" of Galloway was manifested by what he did at the start of the assault and said afterwards in interviews.
The court heard that 60-year-old former Labour MP Mr Galloway had been in London on private business when the attack happened at around 7.25pm on Friday August 29.
He was posing for a photo near his car in Golborne Road with Moroccan doctor Mostafa Maroof and a friend when Masterson approached them "in a rage", prosecutor Michelle Nelson told the court. She said he mentioned the Holocaust, leading Mr Galloway to fear he was a right-wing extremist.
The attack on the MP included 10 punches and a "Kung-fu style" kick which did not connect but caused Mr Galloway to fall into the road, where Masterson continued hitting him.
Mr Maroof, who was shoved over in the attack, and his friend managed to push Masterson away and prevent him from launching another attack before he fled onto a bus, the court heard.
The three men called 999 and then got in Mr Galloway's car to follow Masterson's bus, despite police telling them not to. They flagged down a passing patrol car which stopped the bus and officers arrested Masterson.
Ms Nelson said Masterson admitted to police he said "Anti-semitic little man, I f****** despise you" during the attack and described Galloway as "a morally and intellectually bankrupt person".
She added: "The defendant said that he wanted to make Mr Galloway realise that his attitude towards Jews was shameful, it shames all Catholics and it shames anyone who has any idea of humanity. He felt he (Galloway) is a serpent in a way."
She continued: "He felt he was morally justified in assaulting Mr Galloway. He said he thought Galloway was a Nazi and his political views were hate."
Mr Galloway welcomed the sentence but questioned the decision to drop a charge of religiously aggravated assault. He said:
"The sentence is reasonable in the circumstances. However, had the charge of religiously aggravated assault not been dropped I'm sure it would have been considerably longer and I fail to see why that charge was dropped given that he was wearing an IDF T-shirt and screaming about Israel and me. If an Asian man wearing a Palestinian T-shirt had attacked a pro-Israeli MP would the sentence have been the same?"
In a victim impact statement read in court Mr Galloway described still being in pain from his injuries and how it had left his wife and children in a "constant state of worry". "I no longer go anywhere alone", he wrote. "I now need to have someone with me while working."
---
Masterson's Facebook page provides an insight into his political ideology, which is typical far-right Islamophobia, inspired by groups such as Britain First. Like many who hold these views Masterson is a fervent Zionist, seeing the state of Israel as a bulwark against Islam. Along with declarations of admiration for the IDF, he repeatedly calls for the suppression of Islam in the UK. In a rambling open letter to David Cameron, which accompanies a link to a video promoting a protest against the Muslim Brotherhood organised by the EDL splinter group the South East Alliance, Masterson writes:
"The fault line between Islam and democracy is terminal … This country became great as a function of its vigorous prosecution of Catholicism over centuries: we excluded them from all forms of collective worship; public and civic life; etc etc… So, I ask you, as a man of all things fair: why is Islam getting a free pass when it is infinitely more alien to our culture than Catholicism? … the enemy is right in front of us and it is patient and vowed to destruction. Shows them the true awe and majesty of the law and make anti Islamic legislation the centrepiece of a second reformation; it is the surest path to the glory of a new Britannia."
Rather than targeting Muslims, Masterson chose instead to attack George Galloway – a left-wing politician with a strong record of support for both the Muslim community and the Palestinian cause. It's the same far-right reasoning that motivated Breivik's massacre on Utøya.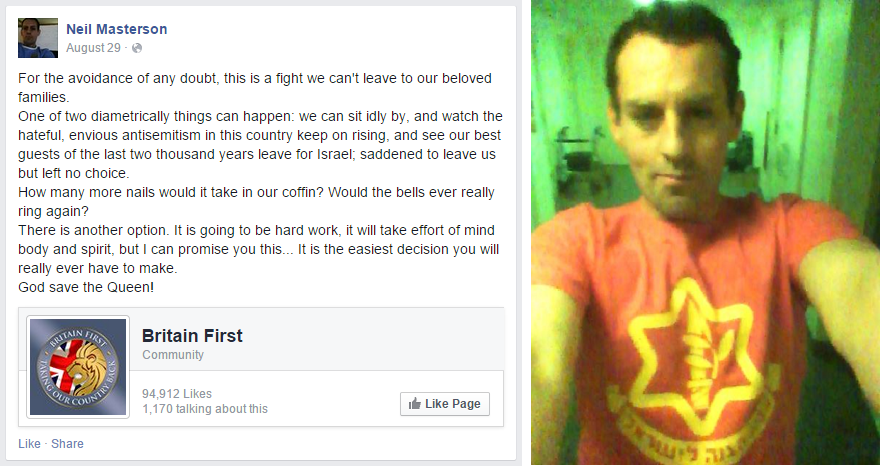 Neil Masterson announcing his support for Britain First and wearing his Israel Defense Forces t-shirt