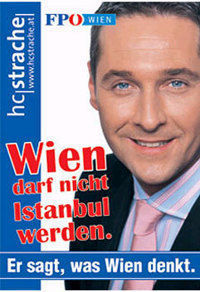 Six European far-right parties are joining forces ahead of EU-wide elections in May, in a bid to contain Brussels and take back national powers, Austria's Freedom Party (FPOe) announced Monday.
Representatives of France's Front National (FN), Italy's Lega Nord, the Sweden Democrats, Belgium's Vlaams Belang and the Slovak National Party met Friday in Vienna to discuss an alliance that will put Europe "back on the right track," FPOe leader Heinz-Christian Strache told reporters.
"There are many important patriotic parties in Europe that have recognised problems and are prepared to work together," he said. After European parliamentary elections in May, there is a "real chance that with the partnership that we're working on we can have a strong parliamentary group," he added. The alliance will be formalised after all party leaders have met. Strache did not say when this might occur.
The Vienna meeting came just two days after FN leader Marine Le Pen and Dutch anti-Islamic leader Geert Wilders announced a "historic" alliance of eurosceptic parties to fight the EU elections. Wilders's PVV party was not present in Vienna but Strache said he would soon meet with the notorious Dutch politician.