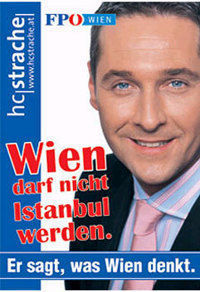 Six European far-right parties are joining forces ahead of EU-wide elections in May, in a bid to contain Brussels and take back national powers, Austria's Freedom Party (FPOe) announced Monday.
Representatives of France's Front National (FN), Italy's Lega Nord, the Sweden Democrats, Belgium's Vlaams Belang and the Slovak National Party met Friday in Vienna to discuss an alliance that will put Europe "back on the right track," FPOe leader Heinz-Christian Strache told reporters.
"There are many important patriotic parties in Europe that have recognised problems and are prepared to work together," he said. After European parliamentary elections in May, there is a "real chance that with the partnership that we're working on we can have a strong parliamentary group," he added. The alliance will be formalised after all party leaders have met. Strache did not say when this might occur.
The Vienna meeting came just two days after FN leader Marine Le Pen and Dutch anti-Islamic leader Geert Wilders announced a "historic" alliance of eurosceptic parties to fight the EU elections. Wilders's PVV party was not present in Vienna but Strache said he would soon meet with the notorious Dutch politician.
Previous attempts at European alliances between the FN, FPOe and other far-right parties in recent years have failed to bear fruit. But now, "influential big parties are talking to each other and are united in their position… Before, we had small splinter groups or the big parties didn't talk to each other. This is different," Strache insisted.
Polls have shown significant support for the Front National and Lega Nord at home and in Austrian general elections in September, the FPOe finished a strong third with 20.5 percent of votes.
A European parliamentary group would require seven parties. Talks could still be held with Britain's UKIP party but no contact has been made with Hungary's anti-Semitic, anti-Roma Jobbik, the FPOe said Monday.
Strache, who has spoken up for a return to national currencies after the eurozone crisis, also dismissed talk of an anti-EU faction. "We're not against Europe, we are for Europe… but not for a centralist super-state that's moving away from its citizens," he said. "We stand by the European peace project. It's just that it's going in the wrong direction."
The alliance's anti-immigration, anti-Islamic platform opposes EU membership for "non-European countries" like Turkey and wants Brussels to return national decisions to capitals, he said. "We don't want Europe to become a centralised federation like the United States, we want a European confederation of sovereign states backed by a strong direct democracy," said Strache.