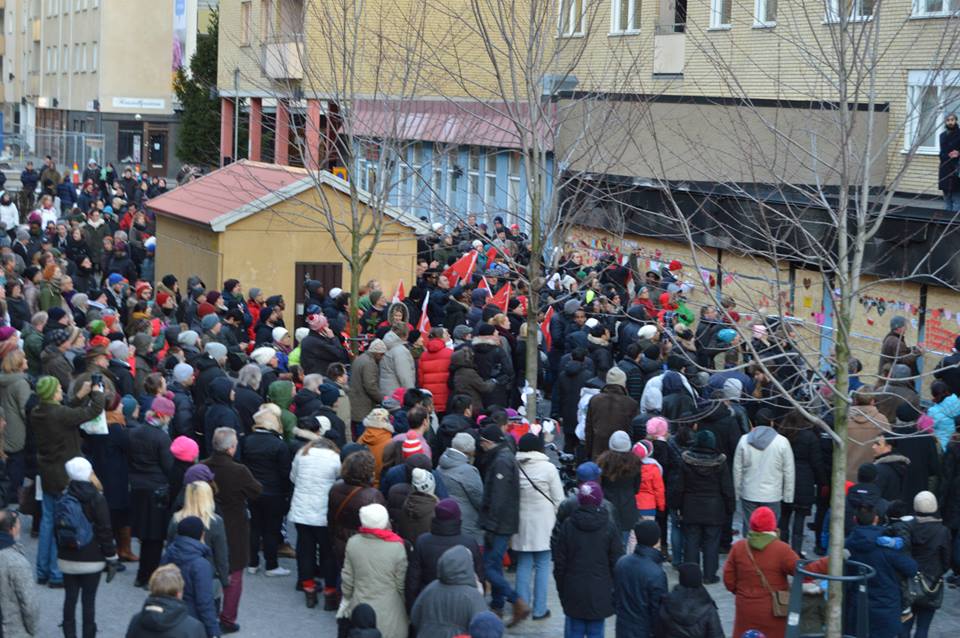 Several hundred marchers turned out in a Swedish town on Friday to denounce an arson attack on a mosque that injured five people on Christmas Day as the traditionally tolerant country confronts the rising influence of the extreme right.
A firebomb was thrown through a closed window of the mosque in the central city of Eskilstuna on Thursday, injuring five of the nearly 70 worshippers inside, two of whom remained in hospital on Friday.
Answering calls by the "Together for Eskilstuna" Facebook page to denounce the attack, a large group of people converged on the damaged mosque to show their support. "Several hundred people were there to deliver a message of friendship," a police spokesman, Roland Lindqvist, told AFP.
According to police, windows in a second Eskilstuna mosque were broken overnight on Thursday, though authorities couldn't say whether the two attacks were linked.
Sweden's leftist prime minister, Stefan Löfven, denounced the "hateful violence". "We will never tolerate this kind of crime. Those who want to practise their religion should have the right to do so," Lofven told SR radio.
No suspects have yet been arrested in the case police have opened for aggravated criminal arson, which has been joined by Sweden's intelligence service, Säpo.
"This is a serious crime, but for the moment nothing is pointing us in one direction more than others," said a Säpo spokesman Sirpa Franzen.
The arson struck another blow to Sweden's self-perception as a generally warm and welcoming host of foreigners.
In September's elections, the extreme-right, anti-immigration Sweden Democrats became the third-largest party in parliament with 12.9% of the vote.
The Sweden Democrats joined with conservative parties this month to reject the government's proposed budget, forcing it to call new elections in March 2015.
According to a recent poll for SR, the Sweden Democrats have increased their September showing by a full point to 13.9%, with other surveys showing support of nearly 16%.
"There has been an intensification of hatred against foreigners," Omar Mustafa, the chief of Sweden's Islamic Association, told SR on Thursday.
In January, unknown perpetrators painted swastikas on the door of a Stockholm mosque, after neo-Nazis attacked a peaceful anti-racist protest in a Stockholm suburb and seriously injured three people the previous month.