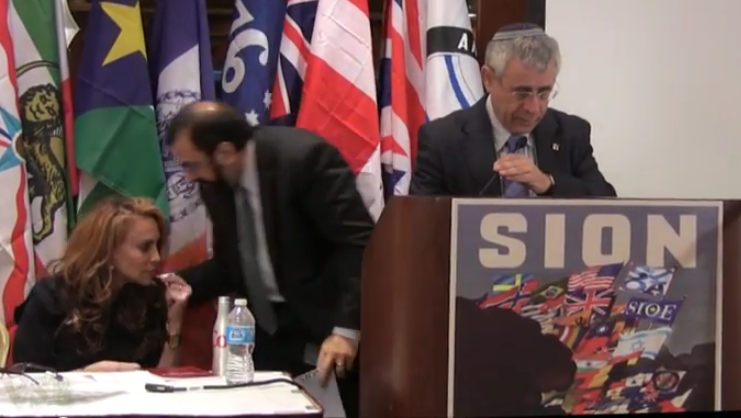 Mordechai Kedar with Pamela Geller and Robert Spencer at a Stop Islamization of Nations conference in 2012
The Zionist Federation this week cancelled appearances at three Jewish schools by an outspoken Israeli academic following concerns about his links to an anti-Islamist activist banned from Britain.
Dr Mordechai Kedar, an expert on Israeli Arabs who regularly appears to defend Israel on Arabic stations such as Al Jazeera, was due to begin a speaking tour on Wednesday night. But ZF chairman Paul Charney said that he had removed the schools from the tour after the intervention of the Board of Deputies.
Dr Kedar, who lectures at Bar-Ilan University, has spoken at events organised by Stop the Islamisation of Nations, founded by the Jewish American Pamela Geller, who was banned from Britain last year in a move supported by the Board of Deputies.
At a 2012 Sion conference, where speakers also included Tommy Robinson, then of the English Defence League, Dr Kedar urged Europeans to have more babies. Muslims, he declared, were "multiplying – somebody said [like] rats".
The Board had said "their biggest concern would be about him visiting schools", Mr Charney explained. "To which I replied that I would pull him from the schools so as not to have an argument, to which they replied they were glad to reach accommodation on this."
Mr Kedar is due to speak at a number of British synagogues over the next few days as well as the ZF's Israel advocacy conference. But appearances at two synagogues originally listed on his schedule will not take place.
His talk at the Spanish and Portuguese Jews' Congregation in Maida Vale, west London, on Wednesday night was cancelled. Hampstead Garden Suburb Synagogue said that his booking had never been confirmed. Rabbi Dov Kaplan of HGS said: "We probably would have had him and let him explain his comments." One objector, academic Michael Pinto-Duschinsky, said that the visit would be "toxic for interfaith relations".
But Mr Charney complained of attempts to smear Dr Kedar. "At the ZF, we are committed to bringing over expert speakers to educate and enthuse our audiences. We don't necessarily agree with all their views… But we do think they should all be heard," he said. He added: "What's worse than a call for a boycott of an Israeli academic? A call for a boycott of an Israeli academic from within our community."
Dr Kedar, who has had pieces published in the JC, said that "media outlets from Egypt, Morocco and Tunisia find no problem to have me on air". He added: "Pamela Geller and her audience are not different from the audience of dozens of media outlets, in Arabic and English alike, which keep calling me to hear what an Israeli researcher has to say; they all deserve to hear the truth about the Middle East."
Jewish Chronicle, 4 December 2014
See Paul Charney and Michael Pinto-Duschinsky, "Should Mordechai Kedar speak in the UK?", Jewish Chronicle, 4 December 2014
Also Ben White, "Zionist Federation speaker: immigration will be death of Europe", Middle East Monitor, 5 December 2014
And "Raping Palestinian women would deter attacks on Israel, says Geller ally", Islamophobia Watch, 21 July 2014
Update:  See "Finchley Synagogue cancels talk by controversial academic Mordechai Kedar", Jewish Chronicle, 8 December 2014