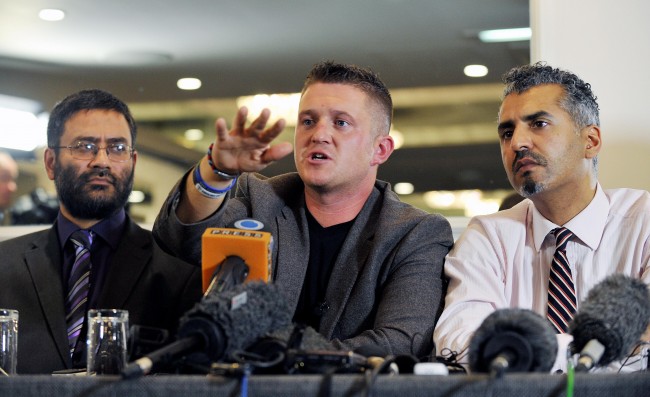 The alacrity with which Quilliam embraced former English Defence League leaders Stephen Lennon ("Tommy Robinson") and Kevin Carroll, and presented them at a heavily publicised press conference last October as men who had renounced their former extremist views, raised considerable suspicions among Quilliam's critics. It has been widely suggested that Quillaim's motive was to try and regain some of the lavish state funding they once enjoyed under Labour but which had been withdrawn by the present coalition government.
Sure enough, an FOI request has revealed that Maajid Nawaz, chairman and co-founder of Quilliam, immediately fired off two emails to Mark Carroll at the Department for Communities and Local Government asking for financial assistance to facilitate Lennon and Carroll's supposed break with extremism.
Whether these begging letters received a positive response is unclear. But it is difficult to believe that anyone at DCLG could be so naive as to swallow Nawaz's claim that the former EDL leaders really wanted to "move towards a more respectable and mature way of challenging extremism".
Lennon (who is now in prison serving an 18-month sentence for mortgage fraud) has shown little sign of having reformed. Here is his recent indignant response to a critic who had accused him of denouncing the EDL:

As for Carroll, he has lately been tweeting his support for the genocidal anti-Rohingya campaign in Myanmar and his vehement opposition to the temporary resettlement of Syrian refugees in the UK ("FUCK OFF!!! … We Are Full!").
Are these the sort of individuals who DCLG is going to provide with funding, via Quilliam, to help pull former EDL members "into the mainstream"? I think not.
Update:  The Huffington Post reports that a DCLG spokesman told them that the department turned down Quilliam's request for funding.
---
From: Maajid Nawaz
Sent: 08 October 2013 10:08
To: 'Mark Carroll'
Subject: Major development – READ now
Importance: High
Dears Mark,
Please see the attached draft (not for publication) Press Release.
Quilliam has broken the news to the world that Quilliam has managed to facilitate the defection of the founder and leader of the EDL, Tommy Robinson (real name Stephen Yaxley), and his right-hand man and co-founder Kevin Carroll from their movement. In other words, the UK's largest right-wing street movement – the EDL – is being decapitated. By tomorrow, this will be major and probably global news.
Both men are keen to be guided by Quilliam in their transition away from this movement and towards a better way forward. In this case, Quilliam will act as a conduit. Both of the EDL's founders now believe that the EDL is overrun by right-wing extremists, and wish to move towards a more respectable and mature way of challenging extremism while distancing themselves from all forms of Neo-Nazism as well as Islamism.
We believe this is a historic move, and a hugely positive development in the history of race relations in the UK. We at Quilliam are immensely proud to have been able to help bring this transition about. We have offered to support these defections and are currently seeking to raise funds for the costs associated with supporting Tommy Robinson while he transitions away from his current financial dependency on the EDL, with a long term view of helping him reconsider his strategy and tactics under our long-term guidance.
Due to the nature of this unprecedented news, we have been coordinating this transition and all costs associated to it without a budget. Please let us know if you can urgently help us with a direct contribution so that we may fund Stephen's transition and cut off his previous dependency on EDL donors.
Finally, I thank you from the bottom of my heart for your continued support for Quilliam as we make history in this way. Today we hope to make you proud!
Yours,
Maajid
---
From: Maajid Nawaz [mailto:[email address]]
Sent: Friday, October 11, 2013 4:52 PM
To: Mark Carroll
Subject: RE: Major development – READ now
Dear Mark,
Concerning our below announcement, here's a news analysis that I believe sums it up well:
http://blogs.telegraph.co.uk/news/danielhannan/100241068/the-symbiotic-relationship-
between-the-edl-and-the-islamo-nutters-not-forgetting-the-anti-fascists/
I am keen to turning this into a project in which Tommy and I can start to reach out to his former members and pull them into the mainstream. Saturday's Guardian will carry an apology by Tommy for the hurt he's caused Muslims. Can we meet to discuss? Currently, this we have no funding in place to engage in this vital work.
Best,
Maajid