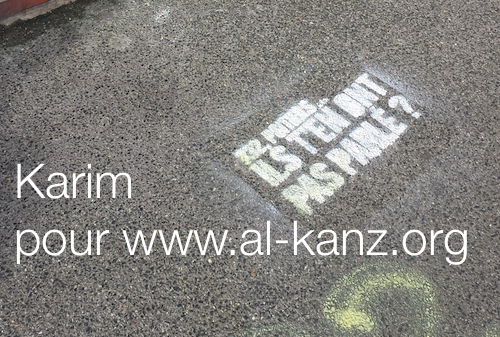 Al-Kanz reports that anti-Islam graffiti has been sprayed on the pavement outside the El-Feth mosque at Beauvillé in Amiens.
The slogan reads "732, Poitiers… ils t'en ont pas parlé?" ("732, Poitiers… haven't they told you about it?"). The reference is to Battle of Poitiers at which the Frankish forces led by Charles Martel defeated the army of the Umayyad Caliphate. Al-Kanz notes that this slogan has been promoted by a section of the far right, specifically by the Bloc Identitaire. Stickers with that slogan have previously been put up in Amiens by the Bloc's youth wing, Génération Identitaire.
In an update, Al-Kanz refers us to a report in the Courrier Picard that a second Muslim place of worship in Amiens has been subjected to a similar graffiti attack. The slogan "732 Poitiers" sprayed on the pavement, accompanied by a drawing of a pig's head, was sprayed outside the Mosquée de la Lumière at Hotoie.