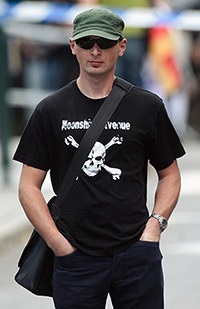 The anti-fascist publication Expo has reported that Kamil Ryba, head of the EDL's sister organisation the Swedish Defence League, has been sentenced to six months in prison for threatening the staff at GT, the Göteborg edition of the Swedish daily Expressen.
Ryba turned up at the GT offices last December to protest against Expressen publishing the names of people who had anonymously incited racial hatred. He threw an egg and said he would come back with a knife next time. Ryba subsequently returned and left a package containing a knife and a copy of the Qur'an, which was addressed to the editors of Expressen and GT. The package was seen as a possible bomb threat and GT staff were forced to evacuate the building.
Ryba pleaded not guilty. According to GT, he claimed that by including a knife with the Qur'an he intended to convey that Islam is a violent ideology, not a religion. However, he was convicted of the offence of violating civil liberty, on the grounds that he had made threats that endangered freedom of expression. Ryba's lawyer stated that he will appeal against the verdict.


Kamil Ryba with Stephen Lennon ("Tommy Robinson"), Robert Spencer and Pamela Geller at 'counterjihad' rally in Stockholm in 2012