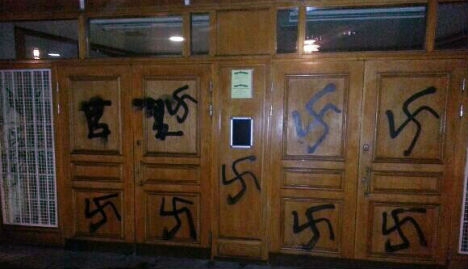 The doors to the central Stockholm mosque were covered in Nazi graffiti on Wednesday night, the first time vandalism has taken the shape of swastikas, representatives said.
The swastikas, which cover the men's entrance to the mosque on Sodermalm island in Stockholm, were discovered on Thursday morning. The mosque was vandalized a month ago, but the damage was not overtly political. "It is the first time it's been this way, it is usually normal graffiti but this is quite special," mosque representative Mahmoud Khalif told the Aftonbladet newspaper.
Mosque administrators have reported the vandalism to the police, which are documenting the damage. "They are documenting and they will potentially secure clues," Stockholm police spokesman Mikael Petterson told the TT news agency on Thursday. "It is a prioritized case when it happens in such a place and with the winds blowing in society at the moment," Pettersson added.
Tens of thousands Swedes assembled before Christmas to demonstrate against Nazism, after neo-Nazis brutally attacked a smaller, peaceful protest against racism in the suburb of Karrtorp a week prior.
An anti-fascist tag with an accompanying anarchist symbol were also scrawled on the mosque's facade.