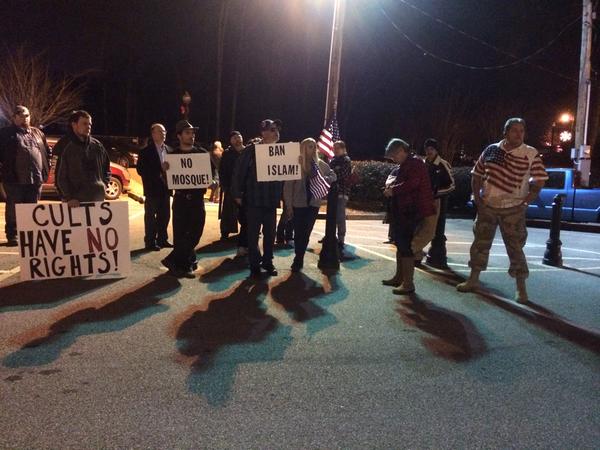 KENNESAW — With a unanimous 5-0 vote Monday, the Kennesaw City Council approved a permit allowing an Islamic prayer center to open in a retail center, reversing its decision earlier this month to deny the request.
The controversial vote came despite protests from a crowd of about 20 people outside City Hall holding signs with the words "Ban Islam" and "No Mosque" and waving American flags before and after the meeting.
Monday's vote, which was approved with a list of other items on the consent agenda without discussion, allows the applicant for the mosque, Kennesaw resident Mufti Islam, to use a 2,200-square-foot space in a retail shopping center off Jiles Road near Cobb Parkway as a Muslim prayer center.
Kashif Islam, the applicant's brother, said he had no ill feelings toward the protesters. "They have the right to protest," Kashif Islam said.
Kashif Islam said he was happy he was given the freedom to practice his religion in the retail center and that the vote ended peacefully. "This is not life and death. We've been living in this neighborhood for 15 years. Have you ever seen us getting into trouble? No," Kashif Islam said.