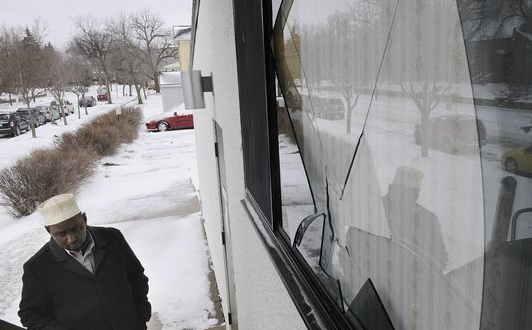 An Islamic faith center in St. Cloud was damaged again this week, and its leaders are voicing fears about its members' safety.
The Central Minnesota Islamic Center in the 300 block of Fourth Avenue South reported a broken window shortly after 7:30 p.m. Monday. Two people were inside when it happened, center spokesman Mohamoud Mohamed told the Times. He said they were on the other side of the building and weren't injured.
This is the fourth incident of damage at the Islamic center in the past month, Mohamed said. He said this one was particularly concerning, because it appeared that someone used something heavy to break the window. "Every corner of our facility has now been attacked," he said. "It is very sad to see that happening in this century, especially during this season."
St. Cloud police previously had asked for the public's help in investigating reports of damage at local Islamic centers, including broken windshields on vehicles parked outside.
St. Cloud Police Chief Blair Anderson said investigators don't have any solid proof that the incidents are connected, but he doesn't believe it's a coincidence. His department has increased its presence in the area with special details in recent weeks, he said.
"It's disheartening more than anything," Anderson said.
Mohamed said it feels like the center is "under siege." "The women and children are scared now to come in here," he said. "It is costing us a lot of money and destroying the beauty of our shrine."
Through an interpreter, Imam Muhumed Ahmed asked people to get to know the center's members before forming opinions. "We want to appeal to those who are doing these things to come sit with us and talk with us and learn about our culture," he said. "Then they can judge us."
Mohamed asked for the public's help in reporting any suspicious activity they might have seen in the area.
Anyone with information is urged to call St. Cloud police at 251-1200, or Tri-County Crime Stoppers at 255-1301, 1-800-255-1301, or visit www.tricountycrimestoppers.org.
St. Cloud Times, 17 December 2014
See also "CAIR calls for better police protection in St. Cloud", St. Cloud Times, 17 December 2014