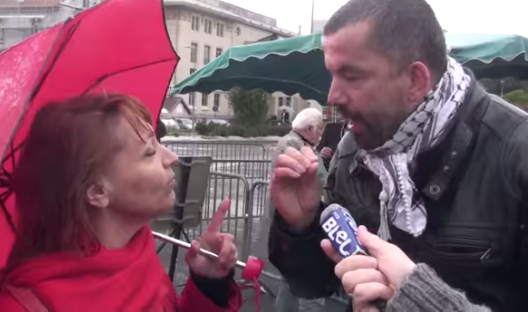 Christine Tasin is co-leader with Pierre Cassen of the far-right Islamophobic campaign group Riposte Laïque and its front organisation Résistance Républicaine.
Cassen and another Riposte Laïque activist were found guilty of inciting hatred against Muslims in 2012, and earlier year Tasin herself was convicted on the same charge, receiving a 3-month suspended prison sentence and a €3000 fine.
Regrettably, on 18 December Tasin won her appeal against that conviction. According to Breitbart London, her legal costs were covered by Daniel Pipes. They report Tasin as saying:
"Last Thursday was a great day for freedom of expression in France. I said, in Belfort, in 2013, before the mobile Eid abattoir that 'Islam is sh*t' to Muslims who had recognized me and attacking me because I claim my Islamophobia.
"I was sentenced to a fine of €3,000 including €1,500 suspended after the Belfort court considered that I had incited hatred against Muslims. The court in Besançon has now acknowledged that one has the right to express opinions and I did not encourage hatred against Muslims, and I can think and say that Islam is a threat to France, that it is a freedom of expression.
"The Resistance to Islam and all those who, in France, fear that freedom of expression is disappearing, and that blasphemy has become a crime again are relieved".
Tasin appears to have won her appeal on a technicality. The court ruled that she had made her hate-filled remarks about Islam in the course of a "stormy conversation" and had not intended them to be widely publicised or sought to convince others of her opinion. (This is the same dubious basis on which the Danish Islamophobe Lars Hedegaard's conviction on a hate speech charge was overturned.)
The court seems to have ignored the fact that Tasin's comments ("Hatred of Islam is something I'm proud of. Islam is a piece of shit … it is a danger to France") were made in the full knowledge that she was being filmed and recorded, and that her statements would therefore be broadcast to a wider audience, encouraging others to share her hatred.