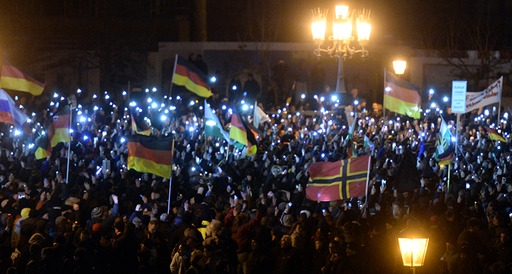 PEGIDA demonstrators in Dresden this evening
Mitteldeutscher Rundfunk reports that PEGIDA's weekly anti-Islam protests in Dresden continue to increase in size.
This evening's demonstration, which was the tenth such event, drew an estimated crowd of 17,500, up from 15,000 last week. PEGIDA speakers railed against the media, politicians and the supposed imminent Islamisation of Germany, and demanded action against "foreign criminals". One speaker declared that the pattern of behaviour of Muslim women does not meet the standards expected in Europe.
A counter-protest by Dresden Nazifrei attracted 4,500 anti-racists, fewer than previously – two weeks ago the anti-PEGIDA demonstration drew twice that number. The decline was partly because the city's other anti-PEGIDA campaign, Dresden für Alle, decided not to support a street protest today and called instead for participation in an interfaith prayer for peace at Dresden's Kreuzkirche. Jochen Bohl, Bishop of the Evangelical Lutheran Church of Saxony, stated: "We Christians do not see ourselves in danger…. We of course have no fear of Islam in central Germany."
Elsewhere in Germany, PEGIDA has significantly less backing. In Munich this evening, according to Die Zeit, only a few dozen of their supporters turned out to oppose a 12,000-strong rally against the far right. Addressing the anti-racist demonstrators, SPD mayor Dieter Reiter declared that "in Munich there is room for the refugees who come to us" and the city was "no place to incite fear".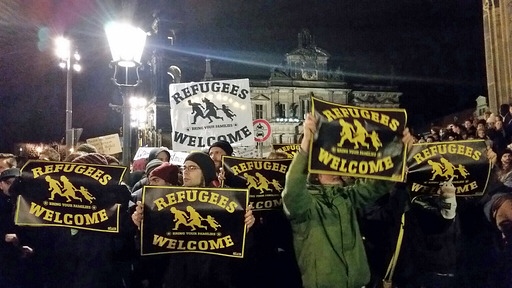 Anti-PEGIDA demonstrators in Dresden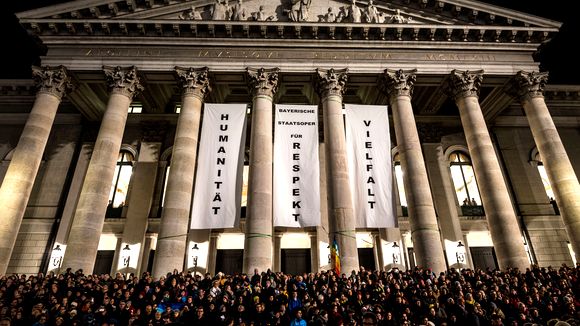 'Humanity', 'Respect', 'Diversity' – banners at anti-racist rally in Munich