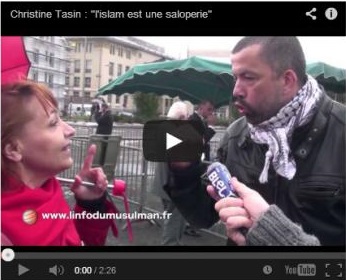 Christine Tasin, president of the French far-right anti-Muslim organisation Résistance Républicaine, has been convicted of incitement to racial hatred for comments she made about Islam in October last year.
During an exchange with members of the Muslim community, a video of which was posted on Youtube, Tasin declared: "Yes I'm an Islamophobe, so what? Hatred of Islam is something I'm proud of. Islam is a piece of shit … it is a danger to France."
As a result, the Coordination contre le racisme et l'islamophobie filed a complaint against her. The prosecution stated that Tasin's words were "likely to provoke the rejection of Muslims by designating them as a threat to France".
Tasin, who turned up in court dressed in the blue, white and red of the French national flag, received a three-month suspended prison sentence and a €3000 fine.
The Collectif contre l'Islamophobie en France reports that Riposte Laïque, the group behind Résistance Républicaine, has posted an article on its website asserting that Tasin has been convicted of the crime of blasphemy. The CCIF points out that Tasin was in fact convicted of inciting racial hatred: "When Christine Tasin espresses her 'hatred of Islam' with 'pride', she is not criticising a religon, she is stigmatising, and moreover in complete ignorance, a part of the population of France who practise that same religion."
Tasin herself claimed that she had been convicted by a "sharia court" intent on imposing Islamic law on France. She said she will be appealing against the conviction.