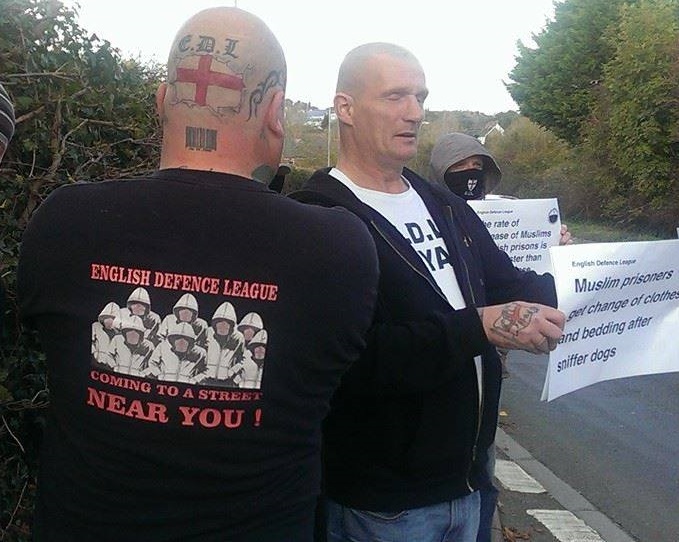 The English Defence League's Isle of Wight organiser Carl Worrall was up in front of magistrates yesterday for sentencing, having pleaded guilty to one count of harassment and one count of racially or religiously aggravated harassment.
According to police, the charges arose from incidents at a coffee shop in Newport on 27 October and 1 November. From Worrall's account, this would appear to be the branch of Costa Coffee in St James Square.
As MEND points out, the 1 November incident evidently followed an EDL protest outside HM Prison Isle of Wight. This was provoked by the leaking of an internal bulletin from the National Offender Management Service, which reported that a prisoner who had recently converted to Islam had been found with a homemade ISIS flag and "detailed escape plans involving taking a member of staff hostage".
Based on a shock-horror account in the Sunday People, the EDL claimed that the prisoner had "planned to behead a guard" – a piece of scaremongering that even the Daily Mail refused to swallow, reporting instead that it was thought the plan was "an attempt to escape, rather than to harm".
The photo above is of Carl Worrall at the EDL protest outside the prison. Looking on is Dave Bolton of the national EDL, which shows that this was an officially endorsed event, not just some local initiative.
At the end of the demonstration, according to a report in the local press, the EDL marched into the centre of Newport and gathered for a further protest at the war memorial in St James Square, before presumably repairing to the nearly Costa Coffee shop, where the harassment by Worrall took place.
Worrall was reported as saying that the EDL were against sharia law and mass immigration. He claimed: "We are not yobs looking for trouble or racist clowns, we are just trying to make a point."
Of course, it turned out that Worrall was indeed a yob and racist clown looking for trouble. As yet we have no details of his racist behaviour (other than his own version of events) or of the sentence he received. But racially or religiously aggravated harassment, even of a non-violent character, is a serious criminal offence that carries a potential six-month prison sentence at magistrates' court (or a two-year sentence if referred to crown court).
It would also be interesting to know what role Dave Bolton played in this affair. Was he present at Costa Coffee when the harassment took place? Did he take any action to prevent it? Or is the EDL happy to tolerate racially aggravated criminal behaviour by its members?