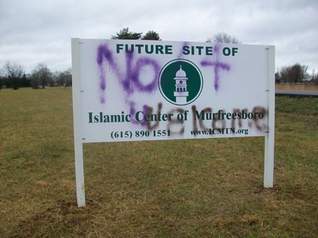 Day five of a hearing into whether to stop construction of an approved Islamic Center of Murfreesboro mosque continued with the opponents' attorney trying to paint the project as a doorway to Islamic domination and tyrannical Shariah law in the United States. Attorney Joe Brandon Jr. called several witnesses on Thursday who tried to connect the Islamic Center to terrorism and plots to overthrow democracy.
Murfreesboro resident Jeanetta Alford was characteristic of Brandon's approach in explaining her opposition to the mosque. She said she believes that the teaching of Islam violates the United States Constitution because it advocates beheadings, forced conversions and pedophilia. When asked if she would like to be rid of mosques in America, she responded, "That would be wonderful, probably."
Rutherford County's attorneys countered that there's zero proof that the Islamic Center of Murfreesboro has broken any law. "Has the Islamic Center of Murfreesboro beheaded anyone?" asked County Attorney James Cope. "No, they have not," Alford replied. Later, she said that the center wasn't fully practicing Shariah law "because they can't do it yet."
The Tennessean, 22 October 2010
See also the Daily New Journal, which reports another witness, one Lisa Moore, as saying that "the religion part of Islam is only about 30 percent and 'the rest of it is about killing non-believers'."
WSMV Nashville reports the following exchange between Brandon and Randy Groce, an investigator with the Rutherford County Sheriff's Department:
"Is Islam a religion?" Brandon said.
"In my opinion, yes," said Groce. "They have a belief in a deity, an afterlife."
"You say an afterlife. Is this the same afterlife that, like, when you yell, 'Allah akbar,' and blow up several people, and you get several virgins – is that the afterlife you're talking about?" said Brandon.