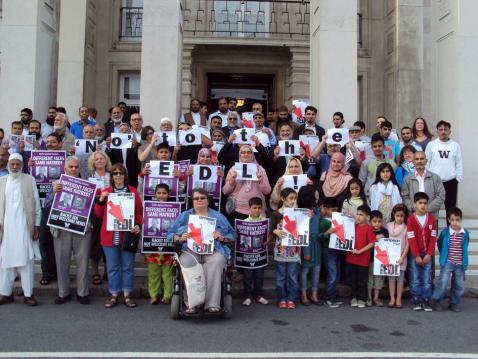 Anti-EDL campaigners outside Waltham Forest Town Hall yesterday
Police have told the Guardian they have no intelligence to suggest that a controversial march by the far right English Defence League (EDL) this weekend will be violent or disrupt the community.
The extremist group, which describes itself as a movement against Islamic extremism but which critics say is racist, is set to protest in Walthamstow this Saturday (September 1) despite widespread opposition from residents.
A meeting of councillors, community leaders and police was held on Tuesday evening (August 28) to discuss the possibility of banning the march, but the Met has declined to apply to the government for such a move and the protest is still due to go ahead.
The route of the march has been revealed, with it scheduled to start near Blackhorse Road Tube station at 1.30pm. It will then go along Forest Road to the Magistrates Court for a rally.
Meanwhile campaigners from the We Are Waltham Forest group say they have had a huge response and are expecting a large turnout for their alternative event celebrating the borough's diversity. It is due to take place on Saturday at 11am on the Arcade Site on the corner of Hoe Street and Walthamstow High Street.
A Met spokesman said: "We are mindful of the passionate response that can be stirred when those with conflicting views come together in the same area to protest in this way. Our policing operation is designed to meet all the obligations we have. At the current time there is no intelligence that leads us to believe that this protest going ahead would result in serious public disorder, violence, damage or disruption to the life of the community."
But in a statement, the council said it remained concerned. A spokesman said: "While the council supports freedom to protest in a peaceful way, it has continued to express concern due to the timing and the potential for violence. Residents are advised to stay away from the march and any counter demonstrations".
Cabinet member for community cohesion Cllr Liaquat Ali added: "The EDL is targeting our community because of its diversity, but we are standing together".
Irfan Akhtar, of We Are Waltham Forest and the Waltham Forest Council of Mosques, said: "We defend free speech and encourage dialogue, especially with those who may have questions against Islam, but the requirement is respectful interaction on both sides. We feel it is an injustice to allow a group with a violent past and attitude towards protesting to be allowed to intimidate any community. It is for that reason we stand united with the all residents of Waltham Forest against this injustice."
An EDL protest in Tower Hamlets was banned by the government last year after police said they received intelligence that there might be violence.
Waltham Forest Guardian, 29 August 2012
Cf. "Violent thug heading to Walthamstow", Hope Not Hate, 28 August 2012
Update:  See also Matthew Collins, "A little brain surgery", Hope Not Hate, 30 August 2012