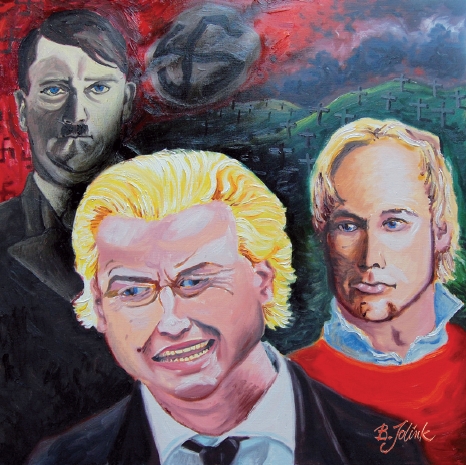 A booklet to accompany the new CD by popular "farmers rock" band Normaal has been destroyed by its German printers because it features a swastika, Nos television reports.
The public showing of swastikas is banned in Germany, apart from for scholarly reasons.
The printer did not check the digital version of the cover and it was only noticed after a couple of thousand were printed, Maarten Steinkamp, director of Normaal's record label CNR told the Nos.
The booklet cover was painted by Normaal singer Bennie Jolink and had already caused controversy for featuring Hitler, Norwegian mass killer Anders Breivik and Dutch anti-immigration campaigner Geert Wilders.
Jolink describes the painting as a protest against right-wing populism, of which he says Wilders is the leading proponent. He calls Wilders a "klootzak" (a term variously translated as "arsehole", "dickhead" or "shit") and says that anyone who agrees with the PVV leader is a "blockhead".