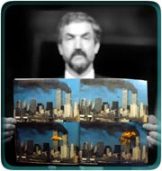 Over at the Washington Times Daniel Pipes opines that he found Pastor Terry Jones' plan to ban the Qur'an "distasteful". But the actual object of his attack is the Obama administration, who Pipes claims capitulated to the threat of "Muslim violence" when they persuaded Jones to call off his book-burning stunt.
Pipes explains: "That violence stems from Islamic law, Shariah, which insists that Islam, and the Koran in particular, enjoy a privileged status. Islam ferociously punishes anyone, Muslim or non-Muslim, who trespasses against Islam's sanctity."
Pipes concludes with the following charge against the Obama administration: "Its pressure on Mr. Jones further eroded freedom of speech about Islam and implicitly established Islam's privileged status in the United States, whereby Muslims may insult others but not be insulted. This moves the country toward dhimmitude, a condition whereby non-Muslims acknowledge the superiority of Islam. Finally, Mr. Obama, in effect, enforced Islamic law, a precedent that could lead to other forms of compulsory Shariah compliance."
Pipes has found himself rather sidelined recently by more newsworthy Islamophobes like Pamela Geller or Newt Gingrich. Maybe this is Pipes' attempt to show he is still a major player when it comes to whipping up hysteria against the US Muslim community.