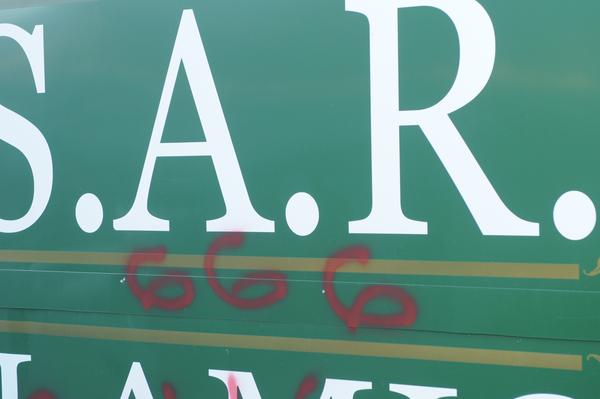 The Mercer County Sheriff's department is investigating an act of vandalism that occurred at the I.S.A.R. (Islamic Society of the Appalachian Region) Worship Center near Princeton.
Mercer County Sheriff's Deputy E.P. Parks is conducting an investigation into the vandalism that occurred either late Sunday or early Monday.
A person or persons unknown spray painted defamatory words with negative references to Allah, the numbers "666" making reference to the Antichrist, the word "pedophile" and other anti-Islamic words.
"This really hurts all of us because all of us feel that we are part of the American dream," Dr. Abdul Piracha, one of the senior leaders of the regional Islamic community said. The images were spray painted on the exterior of the worship center as well as on the sign.
"We have to stand up to this kind of thing," Piracha said. "The last time this happened after 911, the entire community came out to show their support."
Piracha said the worship center hopes to work with a local contractor to remove the paint in a way that won't impact the appearance of the center. "This is a sad and hurtful thing," Piracha said.
Dr. Riaz Riaz, president of the I.S.A.R. said that the graffiti on the worship center does not appear to be the work of an uneducated vandal.
"When someone spray painted on the walls after 9/11, they put general hate group images on the walls," Riaz said. "This was more specific. This is a person who spells pedophile correctly and who knows that 666 is the sign of the Antichrist. Muslims also have that same concept. We also believe that Christ will return."
Riaz said that he hopes to make contact soon with a friend of his who is a religious studies professor at Duke University. "He's a Christian, and a Baptist minister, but I think he is someone who can educate people about Islam."
Riaz said that someone who recently damaged the mailbox at the worship center and some time ago, some copper was stolen. "We just replaced the mailbox," he said.
Piracha said that he intends to seek help from a professional contractor who can remove the paint without damaging the appearance of the worship center.
Bluefield Daily Telegraph, 19 December 2013
See also "Mercer County Islamic Center targeted by vandals", WVVA, 18 December 2013
See "CAIR asks FBI to probe hate vandalism targeting West Virginia mosque", CAIR press release, 19 December 2013
Update:  See "FBI on mosque probe", Bluefield Daily Telegraph, 21 December 2013