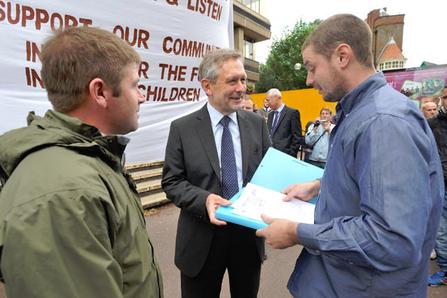 Scores of campaigners gathered at the city council offices to submit a petition opposing the handover of a former Scout hut to an Islamic charity.
The group, calling itself the Committee for the Forgotten Estates of Thurnby Lodge and Netherhall, passed the document to City Mayor Sir Peter Soulsby yesterday.
They are asking the council not to allow the As-Salaam Trust to take control of a disused scout building located in the heart of the estate. The charity, whose members have been meeting on the estate for two-and-a-half years, are asking to take over the disused building.
More than 250 Thurnby Lodge residents gathered outside the Leicester City Council headquarters in New Walk last night to witness the handover.
Residents have collected more than 1,500 signatures, which automatically entitle the issue for discussion at a full council meeting.
A spokesman for the group said: "The Scout hut building in Nursery Road is in the heart of the community and much of the community's heart is in it. It was built with the youth of the community in mind and it should remain as such."
Campaigner Patrick McShane, 58, said: "We want Peter Soulsby to look at this and see it from our point of view. We want to the building as a facility for the whole community."
Carol Davies, 50, who signed the petition, said: "We've tried to contact our councillors but they're not interested, so we had to take matters into our own hands.
"We're a close community and we'll pull together when we need to. There's nothing here for the children to do and taking away a meeting place like the Scout building would leave even less."
Bridget Massey, 73, said: "Traffic is a big issue. There will be nowhere for all the cars – and this building is meant to be for all of us, not just one section of the community."