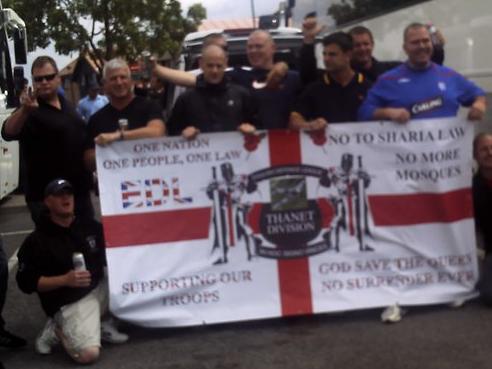 Police were called to keep the peace after English Defence League (EDL) demonstrators targeted Muslim worshippers outside Margate mosque.
Two men handed out anti-Islamic propaganda before Friday prayers last week, angering some members of the congregation who then reported the incident to police.
Salah Ansari, the imam at Margate mosque, said worshippers complained of EDL members distributing offensive leaflets outside. He agrees with the EDL that fundamentalist Muslims must be confronted but rejects the far-right group's stance against mainstream customs.
Imam Salah said: "People are free to hand out leaflets as long as they keep the peace. This is part of living in a pluralistic society. We are all against extremism and fundamentalism and you can't put all the people in one basket. I would advise them to educate themselves about Islam and ask if they have the same views of Jews and kosher."
Officers attended to calm the situation but no arrests were made. A Kent Police spokesman said: "We were called to an address in Union Crescent at 1.50pm last Friday following a complaint from a member of the public about potentially racist material but officers found no breach of the law."
Pat Riot, leader of Thanet EDL, said: "Our aims are to highlight radical Islam through peaceful protests. It is not a case of colour but a rather small culture within Islam that radicalises people. We feel that honour killings, grooming of young girls, burqas or sharia law have no place in Britain."
The South East alliance of the English Defence League gathered in Thanet last weekend to discuss their movements and plan upcoming action to promote their views.
Isle of Thanet Gazette, 28 September 2012
---
It is difficult to say for certain without seeing the leaflet that the EDL distributed, but on the face of it this sounds like a clear case of religiously aggravated harassment, which has been a criminal offence since 2001. The question of whether the material was "potentially racist" is irrelevant. Kent Police should be pressed to take action against Thanet EDL.
Update:  Hope Not Hate identify "Pat Riot" as one Gary Milsom and provide this attractive photo of him.