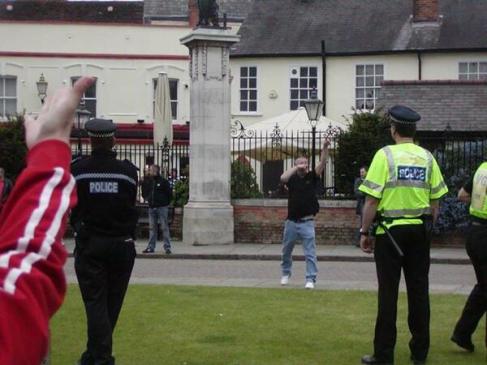 A man seen by hundreds of people doing a Nazi salute during a three-hour stand-off at Colchester war memorial has been jailed for two months.
Kevin Reed attended an English Defence League demonstration at the Cowdray Crescent memorial on June 1, when about 60 members were met by anti-fascist demonstrators. The protestors were opposed to the group's plans to lay a wreath to mark the death of soldier Drummer Lee Rigby, who was killed in Woolwich three weeks ago. Unemployed Reed responded to anti-EDL chants, using the offensive salute and racist language outside the Castle pub.
Reed, 50, of California Close, Colchester, admitted two counts of breaching an antisocial behaviour order when he appeared at Chelmsford Magistrates' Court on Saturday. He was sentenced to two months in prison for each breach, to run consecutively.
As part of his order, which runs until November next year, Reed is banned from using threatening, insulting or abusive words or behaviour towards any person or persons not of the same household as himself, be drunk in a public place, or interfere with property not belonging to him. He is also banned from all pubs and clubs in Colchester town centre.
Acting Chief Insp Jim White said: "I am pleased to say Kevin Reed was jailed for two months. He will no doubt regret using a Nazi salute in Colchester town centre and will have time to contemplate his actions." He also urged members of the public who claim to have seen other EDL members using the Nazi salutes to come forward. He said: "As I have promised, we will follow up any inquiries that result from the EDL march and will prosecute anyone found to have committed offences."
Mark Dunbar, EDL regional organiser, has already moved to distance the group from supporters using Nazi salutes, saying anyone at an EDL meeting using the salute would be asked to leave.
Essex County Standard, 14 June 2013