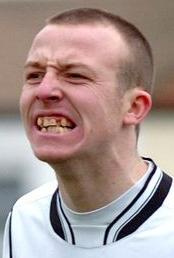 A Merseyside footballer who allegedly encouraged people to riot and "bomb and gas every mosque in England" following the terrorist beheading of Drummer Lee Rigby has been charged by police. Witton Albion striker Shaun Tuck is to face magistrates in Liverpool next month accused of an offence under Section 127 of the Communications Act 2003.
Tuck, 26, of of Mollington Avenue, Norris Green, is alleged to have used his Twitter account to rage: "All the mosque's in England now should be bombed or gassed out!!!… Or stormed by 50 lads machetes, swords the lot. An make a statement. Am raging in me loft here yno… Got the balaclava out, dusted down an ready for the meet. I'd be going through there door mate an taking there kids head off an killing whoever was in site!!"
Tuck, who has also played for Skelmersdale United and Marine, was charged on Monday following a three-week investigation. His current club confirmed they would wait until the outcome of the legal process before deciding whether to take action against the forward, who was the Cheshire side's top scorer last season. The FA also confirmed that a probe into the player's conduct was ongoing.
Tuck will appear at Liverpool Magistrates Court on July 3.
Another alleged tweet by Tuck read:  "Go f**king nuts!!! About time this country fought back. EDL are in Woolwich now!! What I'd give to be there with them now #flop #flop #flop #curryheadseverywhere."