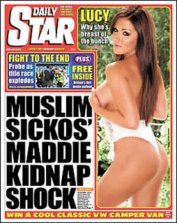 "Is this the vilest front page headline we've ever seen?
"For those wondering – the article isn't actually about Muslims kidnapping anyone, although you won't find it on the Star's website.
"It's about some Muslims suggesting on the internet that the McCanns were responsible for their daughter's kidnapping.
"You know, similar to what The Star and Express had to print front page apologies about and pay half a mil in fines for a couple of weeks ago."
Five Chinese Crackers, 28 April 2008
See also Lee Burrows at How Liberty Dies.