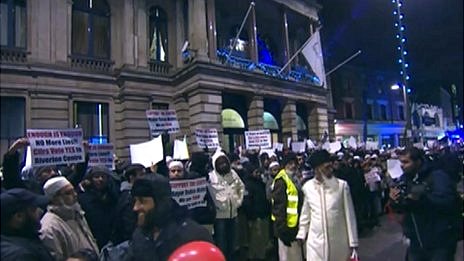 A plan to build the UK's biggest mosque in Stratford, east London, has been rejected by councillors.
Thousands of supporters gathered outside Newham Council's town hall ahead of the decision.
The Islamic missionary group Tablighi Jamaat has been trying for 10 years to build a mosque in Newham.
Supporters outside the town hall, some of whom had come from Birmingham and Bradford, held signs reading: "15 years of waiting. Not a day more. Vote yes to the Riverine Centre".
BBC London reporter Alex Bushill estimated that 3,000 people had gathered. The crowd dispersed after the meeting.
The Abbey Mills Mosque – also known as the Riverine Centre – would have become the biggest Islamic centre in the UK and one of the largest in western Europe.
Council officers recommended councillors refuse permission for expansion on the former industrial land, amid strong opposition and concern about the project.
All eight councillors on the committee voted against the plan at about 20:30 GMT.
Councillor Conor McAuley said it was rejected on the grounds that the land is designated for mixed commercial and residential use, there was not enough consideration for transport and it would not have led to more jobs and homes. He said: "That really wasn't good enough."
Community leader Ala Uddin Ahmed said: "There are 90,000 Muslims around the borough. The Muslim community is growing and there is need for bigger worship. We are extremely let down. We think it is unjust because of the demand of the local people and the Muslim community."
Update:  See also Evening Standard, 6 December 2012
Update 2:  Still, some people are happy with the decision: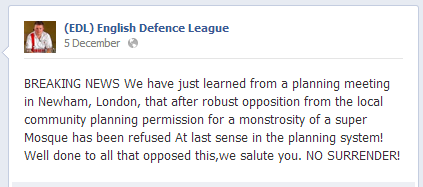 Update 3:  See video report of the demonstration by Message TV.