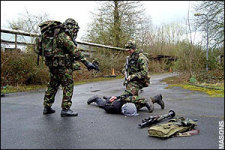 Muslim leaders have condemned a new war game where teams of soldiers shoot at enemies dressed as Arabs.
Players can pay to dress up in camouflaged military gear and fight opponents wearing shemaghs – the traditional headdress of Arab men – at a 20-acre former RAF hospital in Nocton, Lincs. Participants use replica machine guns, pistols and sniper rifles which fire 6mm BB rounds. Images from the Zulu 1 website show soldiers pointing rifles at hooded "Arab" men spreadeagled on the floor.
Founders Peter Jenkins, 41, and Darren Howells, 42, denied the use of Arab head dress was racist, claiming it was the "easiest way to tell who the enemy are". But the Muslim Association of Britain said the scheme was "short-sighted and foolish".
Executive member Mokhtar Badri said: "Any sort of game that associates guns and violence with a particular culture is clearly wrong. They could use any other type of colour or dress to tell between teams which would not cause offence. Using Arab dress, especially in the current climate, is short-sighted and foolish. And regardless of the offence causes, young people should not be given the opportunity to play in an environment where guns are being glamourised."
>More than 40 people have signed up for the game's launch on May 25.