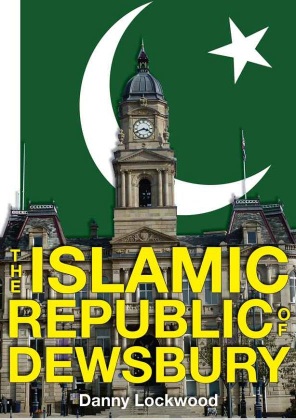 Press publisher Danny Lockwood headbutted man who criticised newspaper
Dewsbury Reporter, 1 February 2014
A publisher and columnist headbutted and punched a man who accused his newspaper of producing "discriminatory" articles.
Liam Ellis began talking to The Press' Danny Lockwood in the Fox and Hounds pub in Hanging Heaton last April. Moments after Lockwood left, Mr Ellis went outside to apologise for the disagreement. But Lockwood headbutted Mr Ellis and repeatedly hit his upper body, forcing him back into the lobby. Kirklees Magistrates' Court heard yesterday (Friday) that Mr Ellis needed five stitches under his left eye and his vision was still affected.
Lockwood, who represented himself, tried to claim his actions were in self-defence. The 55-year-old, of Main Street, Elvington, York, said Mr Ellis had become loud and threatening during their conversation, branding him and The Press "racist". The court heard Lockwood had left one part of the pub to move into the taproom earlier in the evening because a man who had previously threatened to kill him was also there. After speaking to Ellis in the taproom, Lockwood said he left the pub feeling "upset, shaken and shaking". He said he acted in self-defence as he was "in fear of what [Ellis] was going to do next".
But District Judge Baldwin rejected Lockwood's account, saying she believed Mr Ellis was going outside to apologise.
The court heard Ellis, who worked at the pub in Bennett Lane, was drinking there as a customer when Lockwood came into the taproom on April 20 at around 10.15pm. The pair struck up a conversation and Mr Ellis began talking about The Press. He told the court: "I thought the way that things were written could be seen as discriminatory. We discussed [it] for 10 or 15 minutes but it never became overheated or threatening."
Mr Ellis said Lockwood then tapped him on the shoulder and told him he was leaving. "I thought to myself, whether or not I agree or disagree, perhaps the taproom on a Saturday night was not the best place to be talking about it," he said. Mr Ellis said went to apologise to Lockwood, who was stood just outside. "I offered my hand and I said 'I've come to apologise'. He was stood perhaps five yards away and he came running at me and he hit me," he said. He came and headbutted me and I doubled over and he kept punching me in my face and arms."
The blow forced Mr Ellis back into the lobby of the pub and onto the floor. Kerry Oldroyd, a member of bar staff, saw some of what was happening and jumped over the bar to help. She opened the lobby door, which put a barrier between the two men and stopped the attack. The left side of Mr Ellis's face was covered in blood and he could not see out of his left eye. He was taken by ambulance to Dewsbury and District Hospital where he received five stitches.
During cross-examination, Lockwood accused Mr Ellis of "picking a fight" and being intimidating during their conversation. Lockwood said he tried to defuse the situation, but that Mr Ellis swore at him when he said he was leaving. "When I went outside, you followed me to finish me off," he said. Mr Ellis denied that he had sought a fight. Lockwood put it to Mr Ellis that he had come outside pointing and swearing. He suggested the two clashed heads in a short "melee" before Lockwood was satisfied he was safe and walked off.
But prosecutor Ben Crosland said it was Lockwood who had lost his temper after having his evening cut short. He added: "You lost your rag, didn't you? You decided to teach this young whippersnapper a lesson because you were fed up." Judge Baldwin found Lockwood guilty of assault by beating, saying she was not satisfied that he was acting in self-defence or that the force used was proportionate.
The case was adjourned for a pre-sentence report. Lockwood, a journalist for 36 years and a publisher for more than 20, will be sentenced on February 25. Judge Baldwin said that taking into account Lockwood's previous good character, a community penalty was the most likely sentence.
Update:  See "Press publisher Danny Lockwood sentenced for assault", Dewsbury Reporter, 25 February 2014
---
Exchange of correspondence with Danny Lockwood
A couple of days ago Islamophobia Watch received this email from Lockwood, who is not only publisher of The Press but also author of The Islamic Republic of Dewsbury, a book that is highly regarded by the English Defence League:
Sirs,
Ref: your article https://www.islamophobiawatch.co.uk/times-discovers-non-existent-rise-in-muslim-birthrate/

The article alleges that I have "far right links". Nothing could be further from the truth. I have never condoned the actions and beliefs, or supported, any right-wing group, let alone had "links" with them.

I have previously sued successfully to defend my professional reputation in similar matters and will not hesitate to do so again unless this scurrilous accusation is withdrawn immediately.

Yours sincerely
Danny Lockwood
Publisher
The Press News Ltd
Here is my reply:
Dear Mr Lockwood

As you will have noted, the Islamophobia Watch comment piece about which you complain in your email of 30 January includes a link to an article on the Hope Not Hate website, from March 2012, which provides information about your relations with the far right: http://www.hopenothate.org.uk/blog/insider/article/1690/when-a-journalist-turns-rogue

It states: "Lockwood first came to our attention in 2003 when his newly launched newspaper started giving a huge amount of positive coverage to the British National Party. The coverage increased alarmingly when the BNP had three councillors elected in the Kirklees area between 2003 to 2006.

"Writing mostly sympathetic articles regarding the BNP councillors, Lockwood even called two of them, Colin Auty and David Exley his personal friends. With a letters page dominated by BNP members as well, you can understand why Kirklees BNP liked the newspaper as much as it did."

The HNH article went on to report: "Lockwood revealed a very interesting fact. He admitted that in January he attended a far right meeting that was held in Bradford. This was the 'Nationalist Unity' meeting that hosted members of The National Front, British Movement and the neo Nazi BPP, along with Yorkshire BNP MEP Andrew Brons who was guest of honour."

HNH asked: "Why was Lockwood there? His book came out before the meeting so he can't use the excuse of 'research'. He certainly hasn't written about the meeting before, so was it just a meeting of political minds for Lockwood? A bigot sharing a dingy pub with other washed up bigots, sounds about right."

The term "far-right links" seems to me to be a fair summary of the information contained in the HNH article. However, I'm not necessarily averse to amending it. What would you prefer? "Far-right connections", perhaps? Or "far-right sympathies"? I'm open to suggestions.

Finally, can I express my gratitude that you are only threatening me with libel action, given that your preferred method of dealing with your critics is evidently to subject them to serious physical violence.

Yours sincerely
Bob Pitt
Editor
Islamophobia Watch
Update:  Here is Danny Lockwood's response:
Mr Pitt, you assume the Hope Not Hate piece was either accurate or in context. It was neither.

As a working journalist and in regularly denouncing all factions/elements of far right politics – and as I explained in writing about attending that meeting – that involves investigating and exposing their intellectual limitations. That is something I have consistently done, and continue to do.

I have no far right links, sympathies, nor connections, and resent any inference otherwise. I am and have consistently been as averse to their politics as I am to those of the extreme left.

My next course will be to send a legal Letter before Action indicating the commencement of proceedings.

Please remove that reference forthwith.

Danny Lockwood

PS If I subjected all of my critics to physical violence I'd have spent most of the past 20 years either in a hospital bed or a prison cell!
To which I have replied:
If you believe the Hope Not Hate article is inaccurate, Mr Lockwood, I suggest that you take it up with them.

Or perhaps you are reluctant to threaten libel action against a larger organisation with greater financial resources and imagine that it will be easier to intimidate a small-scale operation like Islamophobia Watch into withdrawing our criticisms. I can assure you that you are mistaken.

In the meantime, I have added a note to the article which is the subject of your complaint, pointing out that you strenuously deny having any "far-right links" and referring readers to this exchange of correspondence. I'm afraid that will have to do.

Bob Pitt