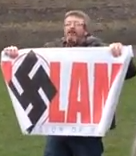 An English Defence League demonstrator has lost an appeal against a conviction for shouting racist abuse at a rally in Farnworth last year.
John Banks [pictured] was among the EDL supporters who congregated at Farnworth Park on August 26 last year where there was also a counter demonstration staged by Unite Against Facism. Within seconds of getting off a coach at the park, Banks was arrested for shouting a racist remark.
He was later found guilty of using racist threatening or abusive words or behaviour in a trial at Bolton Magistrates Court on November 26 and yesterday, at Bolton Crown Court, he appealed against the conviction.
Banks, aged 55, of Adwick Lane, Toll Bar, Doncaster, arrived at court dressed in a T-shirt bearing the slogan "Gay Rights in Islam". Recorder Abigail Hudson and two magistrates hearing the appeal had to halt the proceedings three times after Banks tried to use it as a stage for his political beliefs instead of concentrating on the facts of the case.
The police officers who arrested Banks said that Banks arrived in the park carrying a loudhailer and behaving "loudly". A man was seen holding up a flag with an Islamic symbol on it and the court heard Banks shouted a racist remark towards the person carrying it as he was arrested.
Banks, who boasted that he had been arrested in several towns around the country, told the court: "If someone comes to an EDL demonstration they are not going to watch Bambi." Recorder Hudson told Banks the case against him had been proved and his appeal was dismissed.