A city college that brought in a face veil ban has come under fire after it performed an embarrassing U-turn.
Just a day after David Cameron backed Birmingham Metropolitan College for outlawing religious veils on security grounds, bosses announced they had changed their minds. Now anyone can wear a face covering if it reflects their "cultural values", the college said yesterday. The "cowardly" climbdown came after "politically correct critics" set up an online petition against the move.
Philip Hollobone, a Tory MP trying to introduce a ban on all face coverings in public, said: "What a shame. I am sure a lot of Daily Express readers will be disappointed it backed down. The college made a commonsense decision because it needs to see who's on its campus. It has caved in to a wall of politically correct criticism and outrage stoked by a few Islamic groups."
Euro MP Gerard Batten said: "This is a cowardly surrender to Dark Ages values." Students also hit out at the move. Ross Taylor, 19, said: "Britain has a good history of respecting religious customs but sometimes you have to abide by the rules."
The controversy erupted earlier this week after it emerged the college had banned all face coverings and headgear, including hoodies, hats and veils. The move sparked fury among some female Muslim students who wanted the right to wear niqabs – full face veils. An online petition attracted 8,000 signatures. The Muslim Council of Britain branded it "draconian" and said it was "a clear case of religious discrimination masquerading as a security measure".
The college announced its turnaround just hours before a planned protest, saying it was confident its "modified" policy would "meet the needs of all of our learners".
Daily Express, 14 September 2013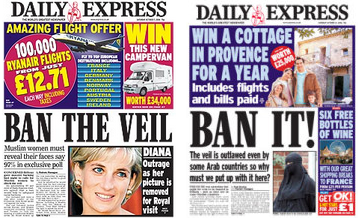 But what else can you expect from the Express? This is the newspaper which, in response to the controversy over Jack Straw's comments about the veil back in 2006, ran front page articles with the headlines "Ban the Veil" and "Ban It!"