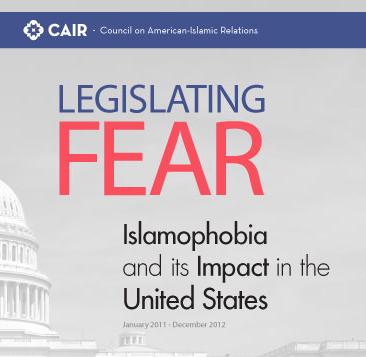 On Tuesday, September 17, the Council on American-Islamic Relations (CAIR) will hold a press conference to release a groundbreaking report, "Legislating Fear: Islamophobia and its Impact in the United States 2011-2012."
The 158-page report by CAIR, the nation's largest Muslim civil rights and advocacy organization, includes the following:
A listing of the organizations involved in the U.S. Islamophobia network, separated into an "inner core" that focuses exclusively on promoting anti-Islam prejudice and an "outer core" that has other elements to its work.
An examination of the total revenue available to inner core Islamophobic groups during 2008-2011.
A rating of the state of Islamophobia in America based on a survey conducted with subject matter experts.
A review of the pervasiveness of anti-Islam legislation in state legislatures.
A listing of known anti-Muslim law enforcement and military trainers derived from a number of critical exposés.
The addition of names to CAIR's lists of the "best," those who are working against Islamophobia and the "worst," those who promoted anti-Islam bias in 2011-2012.
This is CAIR's second report on Islamophobia in the United States. The first report, "Same Hate, New Target", was published in 2010 and argued that anti-Islam sentiment is a manifestation of problems minorities have faced in the U.S. throughout its history.