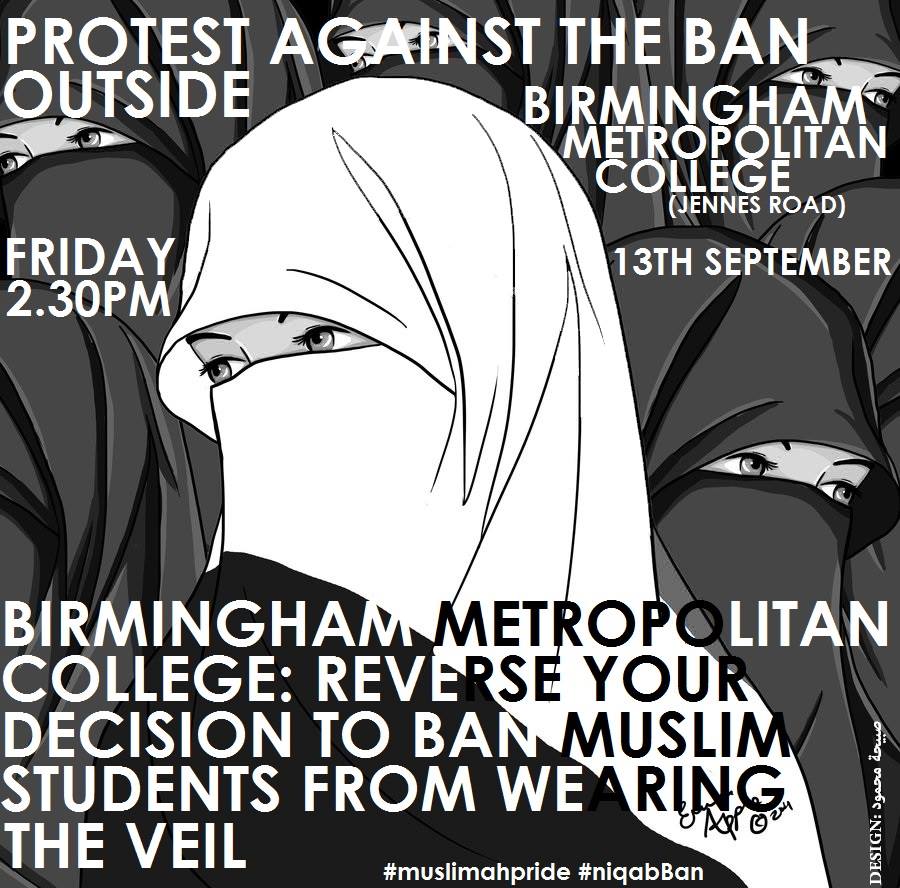 Students at Birmingham Metropolitan College are organising a protest after the college banned its students from wearing the niqab. Muslim women are being stopped from entering the college if they are wearing the niqab, the face veil that some Muslim women choose to wear.
Aneela brought her son to the college to collect a reference today, Wednesday. She was stopped at the door by security and told it was college policy to not let her in as she was wearing a niqab. She said, "I was shocked that something like this could be said at a college in Birmingham with so many Muslim students."
Angry students plan to demonstration against the ban this Friday, 13 September at 2.30pm outside the college.
Shaffaquat, a Business Administration student at the college, said, "It's ridiculous, it needs to stop. This is a free country so women wearing the niqab should be free to wear what they want." Another student, Khabiba, said her friend completed the first year of her A Levels, but is not allowed back for the second year because she wears the niqab.
Birmingham Metropolitan is the third largest further education college in Britain. It claims the ban has been in place for four years, and is only now being challenged. The college claims the ban is a "security" measure. However Muslim women students have said they will raise their veils so security guards can check their ID. The ban is an attack on religious freedoms.
Many of the women affected are often new to Britain and are often mature students with children. They're studying ESOL and access courses to enable them to get jobs and education in the UK. The ban is closing the door on these women's education.
Dame Christine Braddock, the Principal of Birmingham Metropolitan College, has form for making Muslim students feel unwelcome. When the new college was built students were forced to campaign for the inclusion of a prayer room, which she refused. She responded to the campaign by expelling two of the students involved, and described their newsletter as "extremist".
Students are holding a demonstration on Friday 13 September at 2.30pm outside Birmingham Metropolitan College, 4 Jennens Rd, Birmingham B4 7PS. NUS Black Students' Campaign have launched a petition against the ban.
Socialist Worker, 11 September 2013
Update:  See also "The faces behind the veil: Muslim women speak out against ban", Independent, 12 September 2013