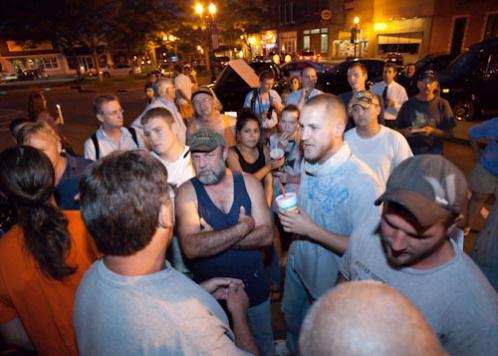 Mark West believes in freedom of religion. That belief brought West out Monday night to a candle light vigil in support of local Muslims in front of the Rutherford County Courthouse. It also inspired the lifelong Baptist to make a donation to the building fund for a new mosque near Murfreesboro.
West was among about 150 people who attended Monday's night's vigil, organized in response to the recent fire at the construction site for the new mosque. Many in the crowd held candles or signs proclaiming such messages as "We're all in this together" and "My God is not a bigot." They also joined in singing "We Shall Overcome."
The gathering came two days after a fire of suspicious origin damaged construction equipment at the site of the planned mosque. Organizers said the vigil was intended to encourage mosque supporters and opponents to demonstrate for a community free of violence, arson and other such activities.
On the outskirts a small but vocal group of mosque opponents made their presence known. Collier Hopson drove his pickup to the vigil. In the back was a plywood sign bearing the spray-painted words "No Mosque." He said that local Christians have a right to build churches. But mosques should be banned, he said. "I don't support their beliefs," he said. "No one wants them here."
Kimberly Kelly agreed. She said that she is afraid of Muslims and that the violence from Iraq and other countries could come to Murfreesboro. She said if the fire at the mosque site was arson, as many suspect, Muslims deserved it. "I think it was a piece of their own medicine," she said. "They bombed our country."
Mosque opponents and supporters squared off for some heated debate during the vigil. Rachel Weese told Hopson and two of his friends that their views were un-American.
The Tennessean, 31 August 2010
See also Nashville City Paper, 31 August 2010
And Gail Kerr's column in The Tennessean, 31 August 2010