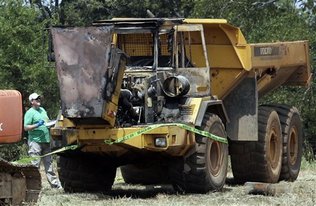 One piece of construction equipment at the future site of the Islamic Center of Murfreesboro was set afire in the overnight hours while others had gasoline poured on them, according to a spokesperson for the ICM.
Carmie Ayash, spokeswoman for the ICM, told The DNJ Islamic Center officials were contacted by the sheriff's department around 1:30 a.m. Saturday in reference to the damaged equipment. It appeared gasoline had been poured on several pieces of equipment at the site and one was lit afire. Ayash said it appeared the responsible arsonist was spooked during the act and fled the scene before other equipment could be set on fire.
"We were contacted by police department around 1:30 a.m," Ayash said Saturday afternoon. "They said someone had caught fire to some of the equipment. I think they lifted the hood and poured gas into the hood and set it on fire."
Ayash said the most recent vandalism to the site "takes it to a whole new level." The site has already been the target of two other vandalisms, both aimed at a sign marking the future site.
"Everyone in our community no longer feels safe," she said. "To set a fire that could have blown up equipment and, God forbid, spread and caused damage to the neighbors there … we really feel like this is something that we and the neighbors don't deserve. When they (ICM officials) called me this morning I started crying."
See also CBS News, 28 August 2010
And "CAIR seeks hate crime probe of arson at Tenn. mosque site", CAIR press release, 28 August 2010