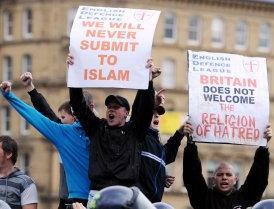 Far-right activists threw smoke bombs and missiles and fought with the police as trouble flared during a protest organised by the English Defence League.
Bricks, bottles and smoke bombs were thrown at anti-racism supporters and police as around 700 EDL activists – including known football hooligans and BNP members – held a "static protest" in Bradford city centre. Mounted officers and others in riot gear were attacked as they pushed the EDL into a penned area. Skirmishes continued as EDL speakers addressed the crowd and there was more violence as its supporters were put back on coaches.
Earlier in the afternoon coachloads of EDL activists had chanted "Allah, Allah, who the fuck is Allah?" and "Muslim bombers off our streets".
One of the coach drivers said: "I didn't expect a job like this when I came to work this morning. We're a five-star firm. We don't usually take scumbags like these."
Thousands of anti-racists and local residents joined counter-protests and events organised around the city. Mohammed Khan, 29, said: "We want to show the people of the UK that Bradford is a united and peaceful place, where Asians, white people – everyone – gets along. Nobody here wants these people. They are just trying to divide this city and provoke trouble."
See also Daily Mail, 28 August 2010
And UAF press statement, 28 August 2010