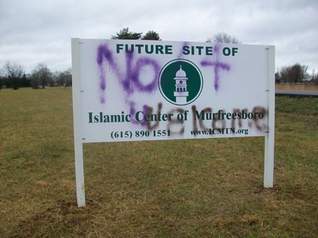 Threats and intimidation are part of a widening investigation into the vandalism at the site of the planned new Islamic Center in Murfreesboro.
"We are not going to stand for these intimidation tactics in our community," said Claire Rogers of Middle Tennesseans for Religious Freedom.
Sheriff's deputies are now patrolling the mosque construction site every hour, 24 hours a day.
This increase in scrutiny came after a piece of heavy equipment owned by Ole South Excavating of Murfreesboro was set on fire Saturday. The company is clearing land for the new Islamic Center.
NewsChannel 5 has learned that the vandalism happened after the center received an ugly, threatening voicemail earlier in the week. The caller disparaged Islam and then said, "You need to get out of the country now."
There's also evidence outlined in a police report that someone vandalized two back loaders also owned by Ole South at an entirely different location. That incident also happened early Saturday morning. Some believe this is an effort to try to intimidate contractors into not working on the project. Ole South's owner says he will continue to honor the contract.
News Channel 5, 30 August 2010
See also TPM, 31 August 2010
Via Michael Tomasky