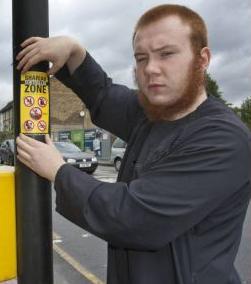 A Muslim convert who was part of an east London gang of self-styled vigilantes calling themselves the "Muslim Patrol" pleaded guilty in court on Friday to assaulting two people in the street.
Jordan Horner, 19, [pictured] admitted two charges of assault and using threatening words and behaviour in January this year. Police had investigated a number of instances in which groups of men tried to intimidate members of the public.
Horner, from Walthamstow, London, who has previously been jailed for assaulting a photographer outside the home of a radical Islamist preacher, is said to have carried out the attacks with two other Muslim men, Ricardo MacFarlane, 26, and a 23-year-old who cannot be named for legal reasons. The latter two men deny all charges.
Scotland Yard launched an investigation into a number of incidents that took place in east London in mid-January in which a group of men threatened members of the public for drinking alcohol.
Horner carried out the assaults in Tower Hamlets, east London, as he and other members of the "Muslim Patrol" roamed the streets in the early hours of the morning last December and this January. The group threatened to kill non-believers and "shank" them, meaning stab them. They also uploaded videos to YouTube criticising non-Muslims for being inappropriately dressed.
At about 4am on 6 January Horner and his group allegedly approached a group of five men walking along the street and snatched cans of beer out of their hands before emptying them into the gutter.
Horner and his group allegedly said: "Why are you poisoning your body? It is against Islam. This is Muslim Patrol. Kill the non-believers." One then told another to "go get the shank" in reference to a knife, but as the group of men started walking away Horner threw punches at two of them, hitting one in the jaw.
The actions of the "Muslim Patrol" were condemned by the East London mosque, which described them as "utterly unacceptable and clearly designed to stoke tensions and sow discord".
Horner, who changed his name to Jamal Uddin, appeared in court on Friday via a videolink from Belmarsh prison, where he is serving a sentence for assault and criminal damage after beating up one photographer and smashing up another's car.
During that incident, he pushed one photographer outside the Walthamstow house of the radical preacher Anjem Choudary two days after Drummer Lee Rigby was killed in Woolwich on 22 May. He also threatened to cut off the head of another photographer, before causing £3,000 of damage to her car.
Horner pleaded guilty to two counts of assault occasioning actual bodily harm. He also pleaded guilty to two counts of using threatening words or behaviour. He will be sentenced at the end of the trial.
---
So, after all the hype over the so-called "Muslim patrols", what we have ended up with is three people in court. This confirms the point made by some observers at the time the story broke, namely that there was no evidence that the patrols involved any more than a few deluded individuals.
Yet this didn't prevent Trevor Kavanagh from informing Sun readers that "last week, hooded gangs of self-appointed religious police roamed Muslim-populated suburbs", or Quilliam's Maajid Nawaz from warning that the patrols could pose a serious terrorist threat as their ranks were swollen by jihadists returning from Syria.
Update:  Nor does it prevent the Daily Mail from elevating the patrol to the status of an "intimidating mob".
Update 2:  See "Muslim vigilantes jailed for 'sharia law' attacks in London", Guardian, 6 December 2014