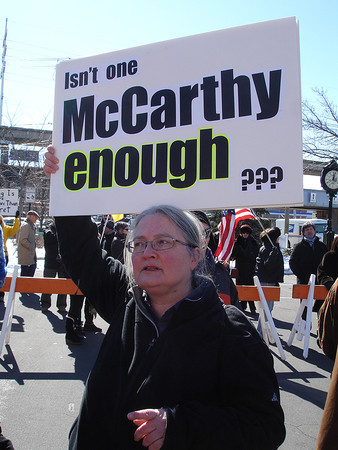 A heated protest rally and counter-demonstration took place Tuesday outside the Massapequa office of US Rep. Peter King, R-Seaford, over his plans to hold Congressional hearings on homegrown Islamic terrorism. More than a hundred protestors on both sides of the issue gathered outside the Seaford Republican's Park Boulevard office to voice their opinions on King's controversial stance on American Muslims.
Opposing what they call the "demonizing of our Muslim American neighbors," among the crowd gathered outside the office were the Catholic organization Pax Christi, the Islamic Center of Long Island, the Long Island Alliance for Peaceful Alternatives, the Interfaith Alliance of Long Island, and the Muslim Peace Coalition.
Sister Jeanne Clark of Pax Christi lead a group that delivered a letter to King's office, signed by approximately 80 Long Island religious leaders, asking King to ensure his hearings are fair. "We're here to stand in solidarity with the Muslim community on Long Island," Clark said. "We think that Congressman King's hearings are misguided…that they're creating a more toxic atmosphere and alienating people."
Imtiaz Rahi, a Muslim protestor, said he personally finds King's allegations deeply offensive. "Peter King believes that Muslims and the mosque managements are not cooperating in the investigations," Rahi said. "This is not true…we are loyal citizens."
Shaik Ubaid, co-chair of the New York chapter of the Muslim Peace Coalition, said he just wants balanced and impartial treatment for his people. "King is painting the Muslim community with a broad brush," he said. "We want the hearings to be held in a very scientific way, instead of inviting Muslim-bashers to come and say stupid things."
In turn, an equally passionate counter-protest gathered outside of police-erected barriers, yelling anti-Muslim and pro-American slogans at demonstrators and waving Gadsden flags high in the air.
The famous yellow flags, displaying a coiled snake and the phrase "Don't Tread On Me," have recently become known as an adopted symbol of the American Tea Party movement and at least one sign at the protest referenced the Tea Party, although the counter protestors Patch spoke declined to say if they were affiliated with any organization.
"We're here to support Peter King, and those people are against Peter King," said one of the counter-protesters, who declined to be named. "He wants to investigate the people who are behind the mosques, and find out who all these people are, and he wants to question where all the money's coming from, and these Muslims are against that."
Another King supporter, who asked to be identified only as Janet, said that this has been a long time in coming. "I think Representative King is doing the right thing, investigating the radical Muslims," she said. "They're here…they have terrorist cells, and this should have been done a long time ago. I was wondering why it wasn't since 9/11. It doesn't make sense."
The two opposing groups shouted at each other throughout the protest, and while the situation was tense at times, the presence of Nassau County police officers kept things peaceful.
The Muslim Peace Coalition's Shaik Ubaid alleged that many of the angry and vocal counter-protesters were, in fact, not local residents. "We expected it – these are people who are bussed in," he said. "In a climate of fear and insecurity, it's very easy to hate-monger."
King remained defiant in the face of the protest. "The Long Island region has a population of almost three million people, barely 100 showed up to protest the hearings," he said in a statement. "I will not be intimidated, I will not back down, the hearings are going forward."