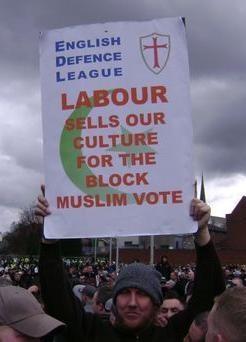 Bricks have been thrown through the windows and the initials of the racist English Defence League have been sprayed on the door of the Labour Party's Luton office.
The incident follows a spate of similar attacks on homes, which began with EDL graffiti and broken windows at two homes on the edge of the Bury Park areas – where many of Luton's Asian community live.
Now, the Luton and Dunstable Express reports that a total of seven buildings have been attacked, including the Labour Party office, in incidents that featured EDL grafitti and broken windows.
The paper quotes EDL leader "Tommy Robinson" – whose real name is Stephen Yaxley Lennon – denying members of his organisation had caused the attacks. He said: "Why would we do that? If we wanted to damage anything we would have smashed stuff up on Saturday and we didn't."
But the first two houses were vandalised just a few hours after the EDL's demo in Luton on Saturday 5 February.
The EDL is an organisation of racist thugs – with links to the British National Party and other fascist groups – which mainly targets Muslims.
Bedfordshire police are investigating the incidents.