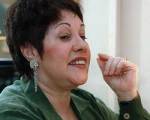 John Sutherland interviews US feminist Phyllis Chesler. "Chesler's critics say the vehemence of her language points to Islamophobia. A piece she wrote last month for the controversial webzine Frontpagemag.com suggested that 'a small but organised number of Muslim-Americans and Muslim immigrants … are currently seeking to begin the Islamisation of America'. It went on to compare the Muslim academic Tariq Ramadan to Hitler. The blog Islamophobia Watch suggested that this signalled 'the point of total dementia'."
For our original post, see here.
For another recent piece on Chesler, see here.