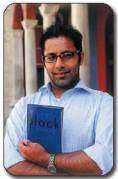 Thus the headline to a Pink News article analysing the narrow defeat of Pav Akhtar in the elections for National Union of Students president last week.
Over at Harry's Place, the inimitable David T has suggested that homophobia on the part of the Federation of Student Islamic Societies was to blame: "FOSIS refused to back Akhtar. It isn't clear exactly why that was, although the rumour is that the 'sinister reason' was his sexuality." (Needless to say, David also implies that Pav is a member of a left group called Socialist Action. But then, it seems there are very few of us on the left who David doesn't think are members of Socialist Action.)
As for the reasons for Pav's defeat, Pink News quotes him as saying that both Islamophobia and homophobia might each have played a minor part but that the result had more to do with "factional politics", with FOSIS failing to back him as part of "a deal to get their preferred candidate elected as secretary". Does David T ever get any of his facts right?