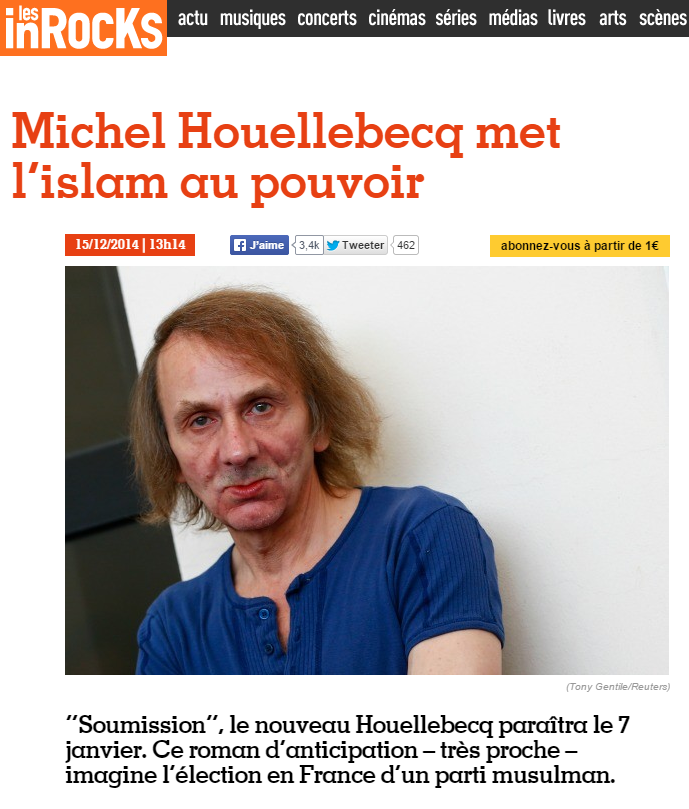 France's most famous living novelist, Michel Houellebecq, appears on course for a fresh literary polemic after it emerged his next book predicts a Muslim will beat the far-Right Front National to run the country in 2022.
Few details had previously emerged about the latest work of France's literary enfant terrible, who shot to global fame with Atomised and recently won France's top literary award, Le Goncourt, for The Map and the Territory.
But on Tuesday, it was reported that his next book, out on January 7, is called Submission – a reference to Islam and the submission of infidels to Allah through conversion to the religion.
Set in the very near future, the novel reportedly predicts that despite his record unpopularity, François Hollande, the current Socialist president, manages to clinch a second five-year term in 2017.
However, in 2022, he is knocked out in round one by a far-Right Front National candidate and a certain Mohammed Ben Abbes, backed by the fictitious Muslim Fraternity party. The latter goes on to win the presidency after joining forces with the Socialists, centrist UDI group and Nicolas Sarkozy's centre-Right UMP.
Houellebecq apparently dismisses the idea that Mr Sarkozy will make a triumphant presidential comeback, as he currently hopes.
François Bayrou, a centrist who has run in several presidential elections, is chosen as prime minister, in a scenario that, according to Les Inrockuptibles, "totally overturns (French) society".
France has the highest Muslim population in Europe, estimated to be between five to six million people. Pew research recently predicted that 30 per cent of the French population would be Muslim by 2030.
The book's release follows recent polls predicting that FN leader Marine Le Pen would likely knock Mr Hollande out of a presidential race in 2017 but lose the second round run-off to a centre-Right candidate.
No stranger to controversy, Houellebecq sparked a furious row in 2001 by claiming: "The dumbest religion has got to be Islam". He was taken to court by four Muslim associations for "insulting a group of people due to their religious beliefs" but was cleared.
In 2011, he slammed France's Green politicians, saying: "As they can't give Muslims satisfaction on everything, they at least give them satisfaction on Israel by dropping the Jews, which is typical collaborationist behaviour."
His anticipatory novel comes at a time of deep soul-searching in France over immigration, Islam and national identity, and the rise of a "neo-reactionary" movement – which warns of the death of France as we know it unless it returns to more traditional values. French Suicide, a book by one of its most famous exponents, journalist Eric Zemmour, is a runaway bestseller, having sold 400,000 copies.
Daily Telegraph, 16 December 2014
See also "Michel Houellebecq provokes France with story of Muslim president", Guardian, 16 December 2014