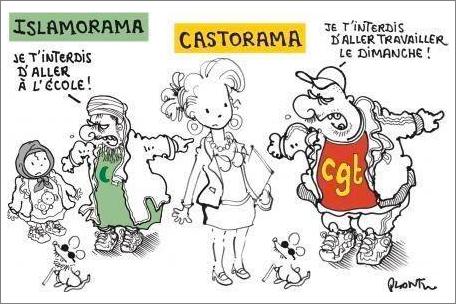 The Collectif contre l'Islamophobie en France draws our attention to the recent controversy over a cartoon published in Le Monde last week.
Drawn by the paper's longtime cartoonist Plantu, the illustration refers to recent court judgements – backed by the French trade union organisation, the Confédération générale du travail – that a number of retail outlets including the home improvement store Castorama were operating illegally on Sunday.
A snarling Muslim is depicted as shouting "I forbid you to go to school" at a young girl, while a CGT representative shouts at a woman employee "I forbid you to go to work on Sunday". It is difficult to say who this is more offensive to – Muslims or trade unionists.
Claiming that he was merely "defending people who want work on Sundays", Plantu reacted furiously to criticism of his cartoon, denouncing what he called "a fatwa by the CGT". He wrote: "Danish cartoonists do not have the right to draw Muhammad, French cartoonists do not have the right to criticise the CGT!"
Plantu was a fervent supporter of Jyllands-Posten and its 2005 decision to publish anti-Islam cartoons, expressing his solidarity with the right-wing Danish newspaper by producing his own cartoon, published on the front page of Le Monde, in which a portrait of the Prophet was constructed through the repetition of the sentence "I must not draw Muhammad".
The CCIF reproduces a more recent cartoon which Plantu drew in response to the violent clashes that took place in the town of Trappes after a veiled Muslim woman and her husband reported that they had been subjected to mistreatment by the police when she was stopped for an identity check.
The purpose of the cartoon is to dismiss this claim of police harassment as false. It depicts a police officer innocently approaching a Muslim couple, with the husband saying "You'll see, I've a feeling he's going to provoke us".