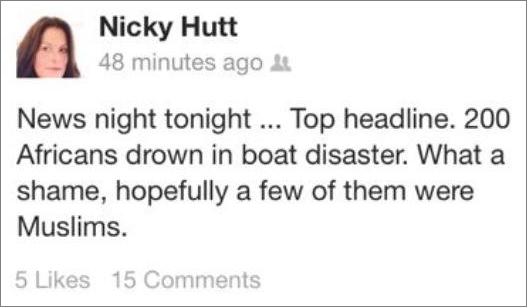 A businesswoman has been slammed as "racist" with a "heart like stone" over internet comments stating she hoped Muslims had died.
Outrage was sparked when a message appeared on Nicky Hutt's Facebook account about the Lampedusa boat disaster near Italy, where around 200 immigrants drowned. It read: "News night tonight… Top headline. 200 Africans drown in boat disaster. What a shame, hopefully a few of them were Muslims."
The message was seen by people including Mrs Hutt's hair stylist Esra Turay Gunputh, who is a Muslim. Mrs Gunputh said: "These racist remarks are really upsetting. It's wrong to have these extreme views."
Nicky Hutt told the Daily Echo she regretted the post. She said: "Last Friday I had drunk some alcohol and had just watched a documentary about the Jihadist Kenya massacre. I posted an article on Facebook which regretfully offended some good and decent Muslim friends of mine.
"I would like to make it clear that the post was deleted by me within only one hour of its original posting. I also posted an apology over the weekend. I genuinely regret the originally posting which does not reflect my normal view about my Muslim friends."
On the Companies House website Mrs Hutt is listed as a director with the company 4Com, based at Aviation Park West at Bournemouth Airport. But the company told the Daily Echo she is no longer a director of the company, but her husband Daron Hutt, also listed as a director, is chairman.
Majid Yasin, director of the Bournemouth Islamic Centre and Central Mosque, said anyone who makes such comments about the "desperate" people who had died must have a "a heart of stone". "This is disgusting," he said. "If she said it about Jewish people or Christians I would be upset." Adnan Chaudry, chief officer for the Dorset Race Equality Council, added: "To see those comments is very disturbing."
A Dorset Police spokesman said: "We've had a report of a racist message placed on Facebook. It was reported to us by a Poole woman and we are investigating."
4Com statement
Daron Hutt, chairman at 4Com, made the following statement.
He said: "4Com is very proud of its brilliant record for employing and looking after its staff. 4Com is also very proud to employ some Muslim staff and also 150 people from a wide variety of backgrounds. Mrs Hutt is a former non-executive director and former employee and takes no part in the running of 4Com plc in anyway. We do not share the views in her post and wish to express our utmost sympathy for all effected by the boat disaster."
Bournemouth Daily Echo, 8 October 2013
---
Update:  The people Nicky Hutt categorises as her "decent Muslim friends" evidently don't include Esra Turay Gunputh, to whom she sent this abusive message: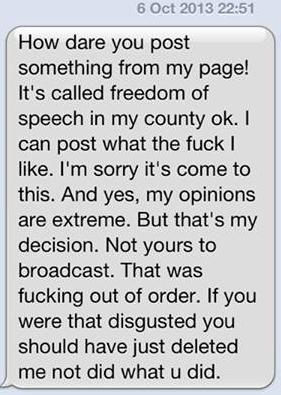 Update 2:  See "Police 'taking no further action' over Facebook drowning slur", Bournemouth Echo, 12 October 2013