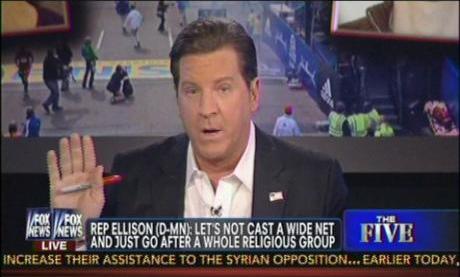 The Five, Eric Bolling took a baseless swipe at Rep. Keith Ellison, calling him "very dangerous" and "the Muslim apologist in Congress."
The only person who challenged that disgusting statement was Dana Perino. "Liberal" Bob Beckel didn't say a word.
In fact, the clip opens with Beckel criticizing Ellison's comments on the reactions in the aftermath of the Boston bombings. Beckel said, "Religion is politics… Sharia law itself is rooted in imams and clerics who teach this stuff. …He's just flat wrong.
Bolling chimed in. "He's also very dangerous. He's kind of been like the Muslim apologist in Congress for a long time he raised his right hand and took the oath of office on the Koran… I think it's time for profiling, don't you?" Andrea Tantaros agreed, sneering, "Hans and Sven are not on the FBI's most wanted list."